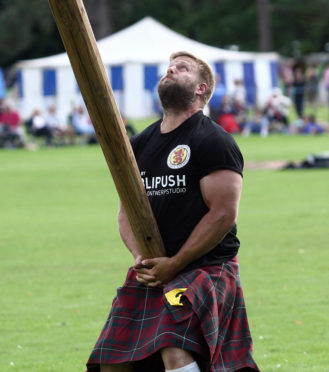 An Englishman has re-taken his title in that most quintessentially Scottish sport, The World Caber Championships.
Scott Ryder from Kent was victorious yesterday at the hotly-contested event held at Inveraray Highland Games in the grounds of Inveraray Castle, home of the Duke of Argyll.
He is a previous champion from 2016, 2014 and 2013. Mr Ryder was once again presented with the Scottish Games Association medal.
Mr Ryder said: "It was a very difficult caber, very long. It was a big challenge to be honest, I didn't feel like I was going to be able to turn it. After the third attempt I managed to turn it.
"There were 10 of us today and five turned the qualification caber. It was a lot harder than it usually is at Inveraray today. The ground was much firmer which makes it a bit more difficult."
The competition is a true test of physical prowess because the caber at the World Championships is one of the biggest, if not the biggest, in the circuit measuring more than 20ft tall and weighing in at more than 140lbs.
The games committee members were thrilled to be hosting the World Caber Championships for the ninth time. It is an event which attracts the highest calibre of athletes from all over the world – from as far afield as Australia and Canada, not forgetting a healthy mix of Europeans and home grown Scottish talent.
Inveraray basked in glorious sunshine yesterday while other parts of Argyll were decidedly more chilly than of late.
The good weather had an impact on the crowds, with a high number of entries through the gates.
The Inveraray and District Pipe Band, the current World and European Champions, parade through the Royal Burgh at 10.45am with the main events commencing shortly afterwards.
In the absence of the Duke of Argyll, the games were opened by the first ever Chieftain, Rear Admiral John Weale OBE.
With its beautiful location at the head of Loch Fyne, Inveraray Games is known for being vibrant and friendly. There was a good variety of sideshows, great food and drink, souvenir shopping and a children's activity tent. Contingents from all of the armed forces were also present.