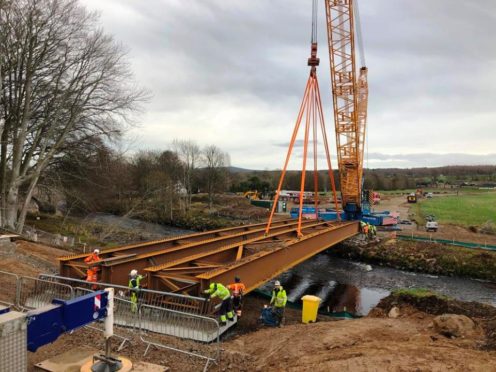 Work on a new multi-million pound crossing over the River Nairn is beginning to take shape, six months after construction began.
The £2.65million project, operated by Highland Council, first began in August last year to help preserve the existing category A-listed White Bridge crossing on the B9090 Old Military road and prevent it from deterioration.
As part of the first phase of the extensive works, contractors R J McLeod have successfully constructed steel abutments for each end of the structure before using two cranes to lay four new crossing beams in place.
Extensive works to deck out between the beams in preparation for concreting casting will now take place in a bid to meet is official opening in early summer.
The new crossing will help realign the B9090 route between Clephanton and Cawdor and remove traffic from the 17th century arch structure.
Following completion, the existing humpback bridge – which dates back to 1749 – will be transformed into a listed monument and become a communal crossing for both pedestrians and cyclists.
Councillor for Nairn and Cawdor, Laurie Fraser said: "I am very pleased to see it going ahead; it will help no end. I can't wait to get the job finished. It will take the big heavy coaches and all the heavy vehicles. The timber lorries will be able to access Cawdor without having to go through the A96 and it's a secondary route for vehicles on the A96 if there is a blockage or an accident."
Councillor Trish Robertson from Culloden and Ardersier also welcomed the works.  She said: "It's good to see it progressing. We have been a long time waiting for this replacement so it's good to see this coming on."