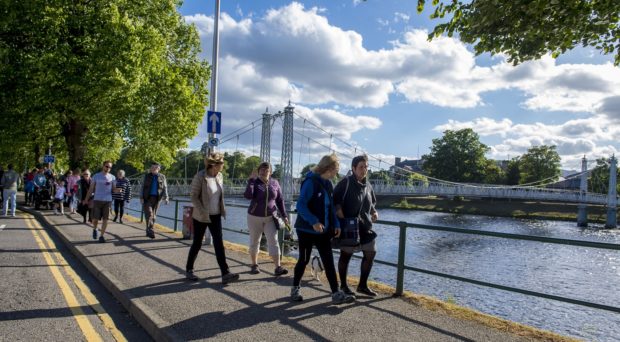 Highlanders of all ages and abilities are being encouraged to venture outdoors and get walking as part of the 16th annual Big Fit Walk.
The event, organised by Paths for All, is designed to encourage people from across the region to become more active during June by organising a 30-minute walk.
Organisers of local strolls will automatically be in with the chance of winning £150 to spend on a project of their choice, whether it be taking volunteers on a day out or buying new resources for their organisation.
Ian Findlay, chief officer at Paths for All, said: "The Big Fit Walk is all about bringing the people of the Highlands together to enjoy a walk in a fun and relaxed way.
"This year, we'd like the Big Fit Walk to be a way for everyone to sample how simple and enjoyable walking in a friendly group is – and encourage everyone to walk regularly.
"Regular walking is still one of the best things you can do for your physical, mental and social health."
Groups of friends, schools, clubs and co-workers are being encouraged to join the initiative, with walks last year taking place from the Western Isles down to the borders.
Joe FitzPatrick, minister for public health, sport and wellbeing said: "Walking is one of the easiest and most accessible ways for many people to be active.
"I encourage everyone to get involved this month and thereafter as this simple yet significant change to your lifestyle can completely transform your overall wellbeing."