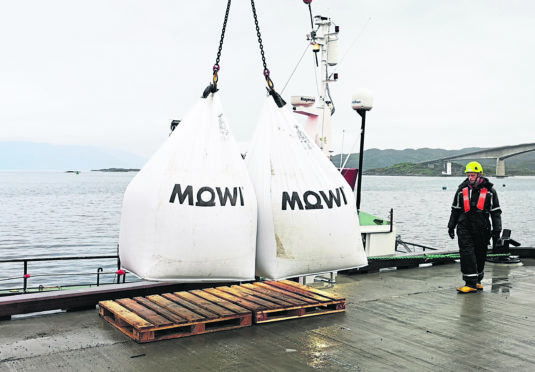 Bosses of Mowi – the world's largest salmon farming company – have met residents of the Kyleakin community to hear first-hand their concerns regarding reported odours and noise from its new fish feed plant on the outskirts of the Skye village.
A special meeting was arranged with residents living on Old Kyle Farm Road – the nearest street in the village to the multi-million-pound feed plant, after issues relating to an unusual smell and peculiar humming sound were noticed by locals.
The event was attended by around 30 residents, all keen to express their concerns and learn more about the new operation in the village.
Claes Jonermark, operations director of Mowi Feed, said: "We have provided contact details to the residents and have asked that they proactively inform us of any changes, good and bad, in terms of smell and noise they are experiencing.
"For our part, we will continue to provide regular updates with new measures we are taking and any changes they are likely to experience, for example; delivery of raw materials arriving on-site and finished product leaving site.
"As a significant employer and manufacturing facility in the area, we are committed to maintaining regular communication with the local community."
Mr Jonermark reiterated that the organisation remain "confident" of resolving issues relating to smell and noise. He added that they will deploy "the best technology and expertise available to do so", before apologising for any inconvenience or problems experienced.
He added: "Our aim is to be a good neighbour and make a positive contribution to the community in and around Kyleakin; whether that's providing employment or contributing to community projects and initiatives."
It is understood the main contribution to the smell experienced from the plant is due to the unloading of material, which bosses have said will occur around 10 to 12 times per year, for 10 hours at a time.
They also hope for noise to be reduced in the coming months as activity relating to generators and boats dies down as the plant enters its continuous production phase.
Local councillor John Finlayson said: "I am encouraged to see a number of residents turn up and meet with representatives of Mowi. I am pleased to see Mowi recognise the issue and I am encouraged by the mitigation measures they will take to improve this.
"I am under the impression that Mowi hopes to evaluate this on a regular basis and will engage with the local community throughout which is a major positive."