A family-run business has been left counting the cost after being hit by a devastating fire.
Anything and Everything in Tain, owned by John Smith, was badly damaged after a blaze broke out on Thursday, with firefighters evacuating neighbouring properties.
It is believed an electrical fault sparked the fire in the downstairs area of the mid-terrace property on Lamington Street.
Property owner Peter Berry was contacted by a concerned neighbour when smoke began filling the entrance hall.
Last night, he estimated the fire had caused up to £20,000 of damage to the shop, which sells second-hand furniture and artefacts.
Mr Berry said: "The downstairs area of the shop, through into the kitchen into the upstairs area is all smoke damaged. The downstairs ceiling needs to be replaced and rewired.
"The shop sells antique second-hand furniture, ornaments and secondhand gear and upstairs there is about 350 paintings. Around 75% of them are damage due to severe smoke damage."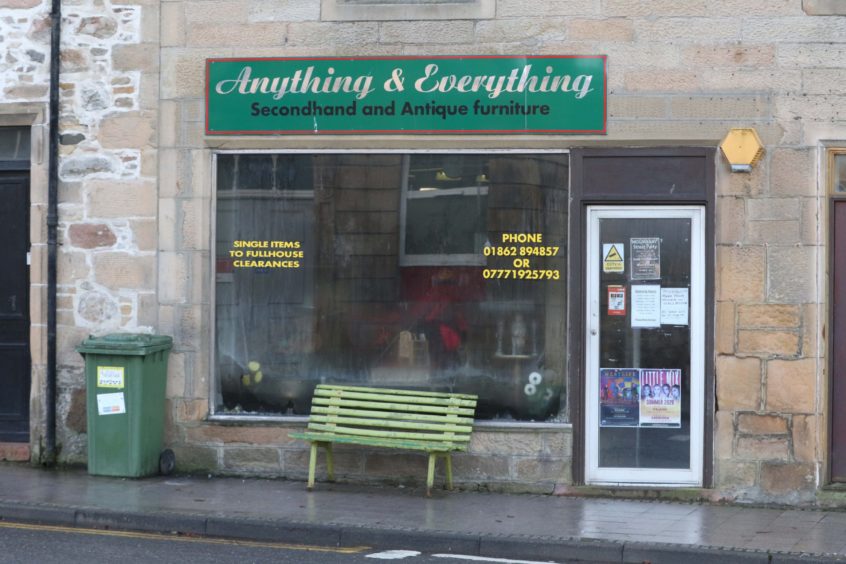 As Mr Smith now weighs up the future of the five-year-old business, Mr Berry expressed their thanks for the public's outpouring of support.
"We're waiting for the insurance assessors to come through," Mr Berry said.
"We estimate it to be around £10,000 to £20,000 of stock damaged. Right now John is looking at how we pull back from this.
"Myself and John would like to thank Tain and Dornoch fire services, the police and friends and regular customers for their overwhelming support."
Two fire crews attended the scene at about 6.25pm on Thursday, working for more than two and a half hours to dampen down hot spots and ventilate the property.
Police closed off the road for around two hours until the crews left the scene shortly after 8.30pm.
A fire spokesman said: "We were alerted at 6.20pm on Thursday, January 2 to reports of a fire within a shop on Lamington Street, Tain.
"Operations Control mobilised two fire appliances and firefighters extinguished the flames.
"There were no casualties and crews left the scene after ensuring the area was made safe."
Local councillor Alasdair Rhind said his thoughts were with those affected by the fire.
He said: "I feel sorry for the owners of the property and the tenants of the property that it happened at this time of the year.
"Although £20,000 worth of damage is a substantial amount, we can be thankful that someone saw the fire very quickly and was able to call the fire brigade and identify or stop more damage being done.
"I know the owners of the property and I am sure he will waste no time in getting the building in working order again."