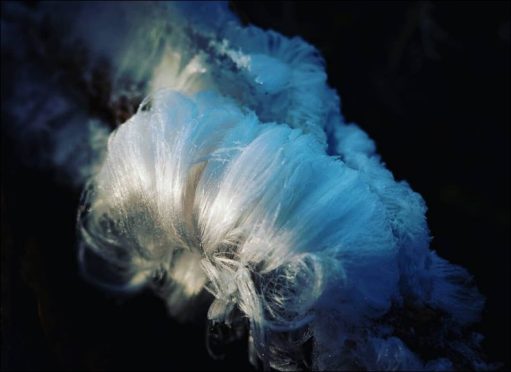 It was a case of 'right place, right time' for one woman who managed to capture a stunning photograph of rare hair ice.
Heidi Ross was in the woods on Alvie Estate, near Kingussie, when she spotted the ice formation.
"I had no idea what it was," she said.
"Google answered and I realised it was quite a special thing to have seen".
According to the Met Office, hair ice is a "rare type of ice formation where the presence of a particular fungus in rotting wood produces thin strands of ice which resemble hair or candy floss".
The first record of the phenomenon dates back to 1918.
And Heidi believes she "stumbled upon it at exactly the right time".
"Within about half an hour it was all gone."
You can read more about hair ice here.
And if you aren't lucky enough to come across it yourself, here is a timelapse video showing how it forms: