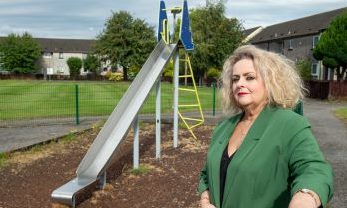 Money put aside to refurbish Highland play parks may be taken to plug the council's budget deficit, it has emerged, prompting fury from opposition SNP councillors.
A report to councillors on the revenue budget to date suggests that £100,000 put aside for play parks could be used as a contingency on which to 'hold back spending'.
Cromarty Firth councillors Maxine Smith and Pauline Munro have been fighting to get the play park budget back on the table after it was used in 2018 to help plug the funding gap at that point.
Last year they won budget leader councillor Alister Mackinnon's agreement to create a new central play park fund of £100,000 which was set in this February's budget.
The two councillors worked up a bid for £30,000 to re-stock four empty play parks in their ward, including Westford and Crawl Park in Alness and Saltubrn and Inverbreakie in Invergordon.
Meanwhile, the Covid-19 pandemic appeared and put a hold on council spending.
Mrs Smith said: "I'm shocked that the budget leader has gone back on his word just when we are ready to submit a bid to replenish four of our play parks."
Mrs Smith said one play park has been closed as the bark is no longer fit for purpose, and the other parks are missing play items.
She called the suggestion short-sighted and extremely damaging.
She said: "I'm inundated with requests for play parks to be upgraded because children have been cooped up and desperately need fresh air and outdoor play.
"It is crucial at this time that our children do not suffer further due to this horrendous pandemic."
Mrs Munro said it was unacceptable and particularly cruel to children in council estates.
"Why should we make the children in our council estates suffer when other areas have play parks funded by house builders?"
A grandmother who preferred not to be named said her  nine-year-old grandson was upset by the closure of their play park.
She said: "The main problem is that bark under play equipment disappeared through time.
"A now disbanded community group got funds for a see saw but since then nothing much has been done so it now looks sad."
Councillor Alister Mackinnon said the playpark funding was simply postponed in the light of uncertainty about what the coming winter will hold in terms of the pandemic.
He said: "We are extremely concerned about the escalation of Covid cases here and the rest of the country.
"The money for play parks would not have been spent over the winter anyway, and we are doing what any prudent householder would do in not spending money until we know what our expenses are going to be."