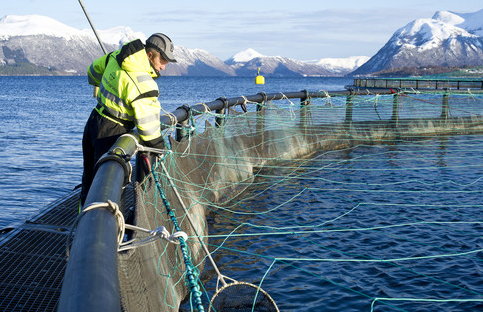 Communities across the north were dealt a massive blow yesterday as a seafood giant announced it was axing up to 100 jobs.
The redundancies are expected to be made at Marine Harvest's salmon farms, hatcheries and processing plants in the Highlands and islands and Argyll.
Bosses at the Norwegian company said the cuts – which represent about 15% of their Scottish workforce – were necessary to ensure the business remained "sustainable".
But the move was branded "very disappointing" amid fears over its impact on remote communities.
First Minister Nicola Sturgeon said the Scottish Government and its agencies had been in contact with the firm as she admitted the announcement would leave employees and their families facing a "particularly anxious" wait over their future.
The decision was announced just days after Marine Harvest said it was searching for a site for an £80million fish feed plant on the west coast, paving the way for 55 new jobs to be created.
The company, Scotland's largest salmon farming firm, employs a total of 658 full-time equivalent workers at four hatcheries, five freshwater loch sites and 48 sea farms in Scotland.
The farms are located across the Highlands, Argyll and the Western Isles, with live fish harvested at a facility in Mallaig and processed at the Blar Mhor plant in Fort William.
The company's main Scottish offices are at Fort William and Rosyth, but the latter is not affected by the cuts.
Skye, Lochaber and Badenoch MSP Dave Thompson raised the issue at first minister's questions at Holyrood yesterday.
He said it was a "serious matter" and a "large number of jobs for small communities to lose", as he urged the SNP leader to ensure that action would be taken to help those who face losing their jobs.
Ms Sturgeon said: "Obviously this will be a particularly anxious time for employees and their families.
"The Scottish Government is in contact with the company, which has approached Highlands and Islands Enterprise (HIE) to identify redeployment opportunities, and my officials will shortly meet the company to discuss what can be done to support staff.
"We remain fully supportive of the sector, which is a key industry for Scotland in the context of supporting employment, particularly in our remote coastal communities."
Last year, the firm said rising sea temperatures were responsible for a huge increase in its annual costs, including the loss of fish worth £7.75milion at salmon farms in Scotland.
Health issues related to sea lice, algae and amoebic gill disease can be exacerbated by the smallest change in temperature and ruin salmon production.
Accounts released in October showed Marine Harvest had suffered a large drop in pre-tax profits last year to £41.1million, from £62.3million previously.
Robert Muir, HIE area manager for Lochaber, Skye and Wester Ross, said: "We are of course very disappointed to hear of job cuts and will be working with the company and our partner agencies to support those affected."
The company has issued a 30-day notice to affected employees and will now enter a period of consultation with staff representatives about which posts will be affected.
Ben Hadfield, managing director of Marine Harvest Scotland, said: "We will be sorry to see staff leaving as we have a highly-skilled and talented team here at Marine Harvest Scotland.
"However, the industry is moving at a fast pace and fish farming is in a very different place today from where it was 10 or even five years ago.
"We have to ensure the business is sustainable and is fit to meet the challenges we face moving forward. By taking this action now we can be more certain of maintaining jobs in the future."