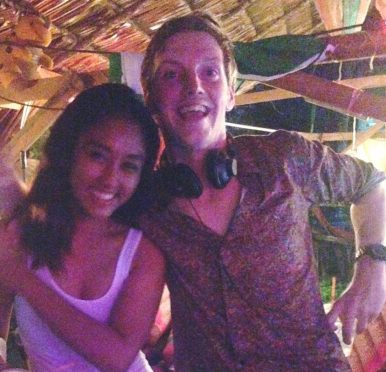 The mother of a young Orkney man who suffered a brain aneurysm in Thailand has credited his girlfriend for saving his life.
Owen Auskerry took suddenly and catastrophically ill when he was in the Far East country working as a teacher.
As he lay helpless in a hospital in Bangkok, family, friends and perfect strangers donated tens of thousands of pounds to fly him home to recover.
And now, for the first time since the 24-year-old arrived home, he and his mother Teresa Probert have spoken to the Press and Journal about his terrifying ordeal.
Yesterday, Ms Probert said the family was "delighted" to have him home and said he was making a speedy recovery.
She also praised the generosity of those who donated more than £29,000 to help with the cost of ongoing therapy and care, as well as enabling the family to look after him.
The money also went towards the costs of medical bills and the flight back home.
Mr Auskerry's speech, as well as his reading and writing skills, have been affected by the aneurysm and his rehabilitation is expected to last from anything between a month and a year.
But yesterday, he managed to say: "I am completely blown away by the support of all my friends who have donated and messaged me both in Thailand,
Edinburgh and Orkney. Thank you for being so brilliant."
Mr Auskerry's girlfriend Janjira Swy is studying at university in Thailand, but is currently trying to obtain a visa to come and visit him next month during her holidays.
And yesterday, his family paid tribute to Janjira's quick-thinking after Owen began suffering severe headaches, seizures and vomiting last month.
She wasted no time in calling an ambulance, and when he arrived at hospital the doctors discovered a blood vessel in his brain had burst.
He was airlifted from his home in Nakhon Si Thammarat to hospital in the Thai capital Bangkok 380 miles away, where he underwent a three-hour surgery.
Ms Probert said: "He has been incredibly lucky that he had friends with him in the first 48 hours. If Janjira and his friend Kyle had not been with him when he had the seizure I don't think he would be alive today.
"When the pressure builds on the brain you want to push against everything and he was desperately trying to pull everything out when he was in hospital. His friends stopped him pulling everything out, and his oxygen as well. His lung collapsed and he had pneumonia in his lung and without them I don't know how it would have turned out."
Mr Auskerry's parents flew from the UK to Thailand to be by his side, while brothers Rory and Hamish Auskerry joined them later.
Ms Probert, who flew back with her son and a nurse who was sent out by an insurance company, said her son did not remember much about his time in hospital, but that he was pleased to be home.
"Owen is delighted about being home," she added. "He does not remember anything about the bleeding itself or at least a week afterwards. The realisation of what's happening and what the impact will be on his life has sunk in over the last few days.
"His speech is affected but it's getting better every day. It will carry on improving and we are going to help him through rehabilitation. We are waiting to get a specialist neurologist here."
As well as working as a teacher, Mr Auskerry has also spent his time in Thailand DJing under the pseudonym MetraGnome.
He had planned to return to Scotland in March to pursue Djing work in Edinburgh – which he still hopes to do in time.
The family are the sole residents of the Orkney island of Auskerry, three miles south of Stronsay, with the brothers taking the name of the island.
Ms Probert added: "People have been so generous with their donations. I still can not believe how wonderful everyone has been and the whole Orkney community, as well as close friends and family. The messages of support has been an incredible feeling being at the centre of all that support and love and it's been massively encouraging and helped us a lot."