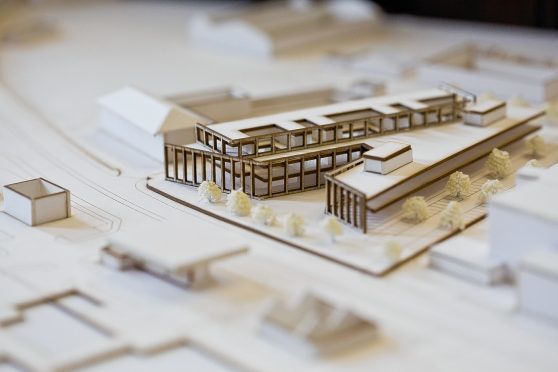 Inverness residents yesterday gave an overwhelming thumbs-up to a new courts complex that will unlock Inverness Castle to tourists.
A simple and modern design was showcased at a well attended drop-in session at the city's Spectrum Centre.
A straw poll of interested visitors was fully supportive of the Scottish Courts and Tribunals Service's vision for a justice centre on the site of the former Stagecoach depot, a few paces from the Burnett Road police station and the vacant Inverness College building.
The exhibition featured a model and artwork to give people an insight into the visual impact of the £23million, six-court complex on the landscape.
Nairn architect Paul MacDonald, 26, who works in Inverness, said: "It's a good location. It's an opportunity to expand the city centre in a new way, encouraging people to use the city centre.
"And the quality of the architecture from the early sketches is good. They're good architects, a good design team."
Pat Hayden, chairwoman of the Crown and City Community Council whose area encompasses both the castle and the justice centre site, was impressed.
She said: "This has been on the agenda for at least 30 years. They're talking about a tree-lined complex. I think it's really good.
"I'm hoping it will kickstart something special for the derelict college building."
Mike Smith, manager of the Inverness city Bid team, said: "It's important that this progresses apace. It allows for a better service for the justice system in a more appropriate place and it will free up the castle to be developed as a major public attraction. There's an amazing amount of public will for that to be achieved."
Sheriff Principal Derek Pyle, the most senior sheriff in Grampian and the Highlands and Islands, has describes the development as "terrific."
Justice centre project manager Fergus Taylor said: "People have welcomed this proposal and are keen to see it as a facilitator for the castle to become a tourist focus."
The target date for opening the new facility is Spring, 2019. Its introduction will allow the most serious cases to return to the city from courts in the central belt where Highland murder and rape trials have been heard since judiciary reforms 2013.