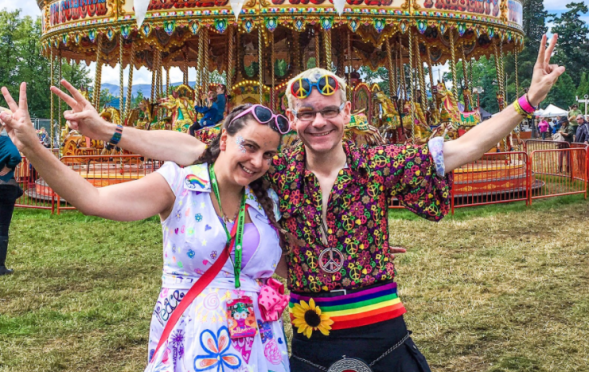 A renowned paediatrician and comic book fan has seen his own 'origin story' become an online hit after revealing how he witnessed Raigmore doctors save his sister's life as a child.
Dr Michael Farquhar, originally from Tain, described how he watched on in desperation as doctors at the Inverness hospital worked to treat the seriously ill youngster.
Linsey, who still lives in the Highlands, was first diagnosed with epiglottitis as a baby 36 years ago. The condition, caused by an infection to a flap of tissue at the back of the throat, restricts air supply and can be fatal.
Dr Farquhar – who now works as a consultant at Evelina London Children's Hopsital – recalled how despite initially recovering, his sister took ill again four years later and suffered a major respiratory arrest.
He said: "I remember her being in intensive care. Small in an adult world. Vulnerable, fragile – but protected. There were people all around trying to make her better."
When his father arrived at Raigmore, the young boy – then just nine – asked if his sister was going to die. He told him he didn't know.
On the drive home, Mr Farquhar bought his son a comic to keep him distracted. In the story, a young girl was left injured – with her fate also 'to be continued'.
Dr Farquhar said the girl and his sister "got merged" in his mind and as Linsey's condition slowly improved – and the girl survived onto the next issue as a cyborg, his eventual transition into a "paediatrician and a comic geek" was confirmed.
His story received a strong reaction online, with nearly 8,000 people 'liking' the original post and a number of health workers coming forward to thank him for sharing it.
It was also chosen as a Twitter 'moment', meaning it was highlighted as one of the most poignant things shared on the website that day.
A spokesman for NHS Highland said they had read the post with interest and were "delighted to see the positive impact the service had on Mike and his family".
Dr Farquhar added: "There's a lot of negativity around health care but it's important to remember why a lot of us do this – sometimes it's not the most obvious.
"My life would have been totally different if they hadn't saved her. The impact on her life is clear to see but others might not have noticed the little boy standing in the corner watching it all, deciding he wanted to help people too."
David Evans, Vice President at the Royal College of Paediatrics and Child Health, said: "Michael's touching account of his route into children's medicine is a shining example of just how special paediatricians are and the level of dedication they have for their work.
"Michael's inspiring story shows us the power of paediatricians' work and the impact they have on people's lives long after they've left the hospital."