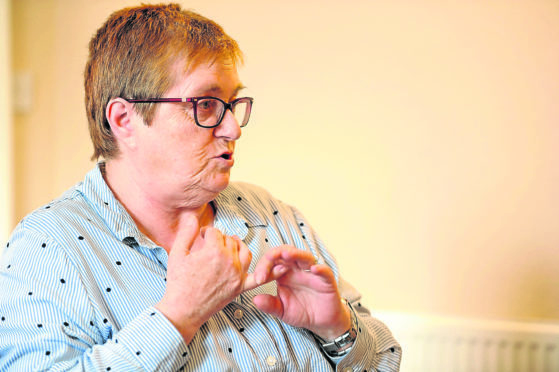 A city pensioner who has to travel to Newcastle to get treatment for a chronic condition has stepped in to campaign for people with similar conditions to get help closer to home.
Mary Ramsay, 61, from Inverness has been fighting for a focus ultrasound device being provided to Ninewells Hospital in Dundee to aid tremor suffers across Scotland.
The equipment is set to cost £1.5million and will become only the second machine of its kind to be offered to patients in the UK. Currently London's St Marys Hospital hosts the only focus ultrasound device with waiting times stretching to a staggering four years.
Highlands and Islands MSP Rhoda Grant has instigated a debate that will explore the option of the acquisition of the ultrasound device after suffering from the condition known as essential tremor since birth.
Rhoda Grant MSP said:  "According to some experts, current medical therapies are 'barely satisfactory' for those with the condition and there is a need to develop treatments and surgery for patients who are living day in and day out with the progressive disorder.
"To have this ultrasound device in Scotland would be a big step forward for patients from all over the country and I am hopeful that the Scottish Government will get behind this so that a body of medical evidence and research can develop the best treatments for those concerned."
In 2004 Mary opted for the emergency procedure known as deep brain stimulation, where electrical implodes are implanted on the brain to reduce the influence tremors can have on sufferers.
Mrs Ramsay travels routinely once a year the 560-mile round trip to Newcastle, which will continue as the new ultrasound device for Scotland, would not benefit her situation.
Mrs Ramsay added: "I am not doing this for myself; I am doing it so others don't go through the hell I did in trying to get a diagnosis and dealing with people's ignorance.
"I would urge MSP's to please consider this very carefully. I know of cases where people have felt there is nothing for them and contemplated suicide. Please meet somebody with essential tremor and talk about day to day life, writing is an impossibility, eating out is an impossibility and for some like me talking is an impossibility.
"I will have my fingers, legs, eyes – everything crossed that this happens."
The debate is set to be heard in the Scottish Parliament on Wednesday May 16.