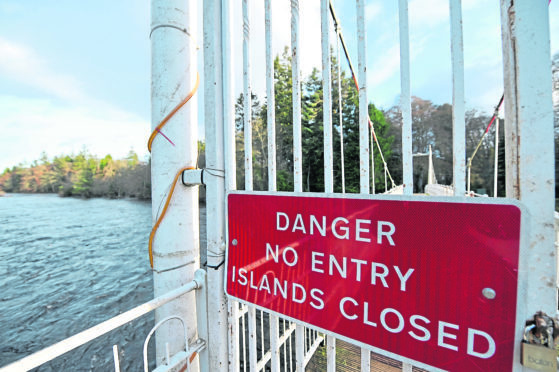 A busy city centre footbridge is to close for essential repairs – and will lose all its love locks.
Highland Council announced the suspension bridge from Bught Road onto the scenic Ness Islands will be shut for six weeks starting from Monday.
They will also remove all locks and stickers left as mementoes – and issued a plea that people "leave no trace" once the clean-up has been completed.
The timing of the work – at the height of summer – left one councillor "frustrated" after the Inverness City Committee pledged to do the work in June last year.
Councillor Alex Graham said the timing left a lot to be desired, saying: "I am disappointed the notice of the works has been so short. I accept some of the work is essential particularly on the slats on the platform.
"This bridge is used by local people, dog walkers, and it is part of the Great Glen Way so there will be an impact on tourists as well and all this at the height of summer.
"This work was agreed a year ago at the June 2017 meeting of the Inverness City Committee and clearly I am disappointed that it has taken this long for work to begin."
Now Mr Graham hopes that the work can be completed under schedule so that access can be restored.
He added: "The alternative is the Infirmary Bridge but that still leaves us without a way onto the islands from the west of the city. I have talked to the city manager to try to encourage them to finish the work as fast as possible."
The local authority has apologised for "any inconvenience" and was "mindful of the fact that the closure is taking place throughout the summer" – but it defended the decision.
A council spokeswoman said the essential maintenance of the bridge and the closure is for public safety.
SHe added: "The timing of the refurbishment in the summer season is necessary as it provides the best weather conditions to get the work done safely with lower river levels."
The work will be carried out by Brandon Landscaping for the Highland Council and the Inverness Common Good Fund which owns the bridge.
The refurbishment includes engineering, stonework and decking repairs and painting of the bridge structure work.