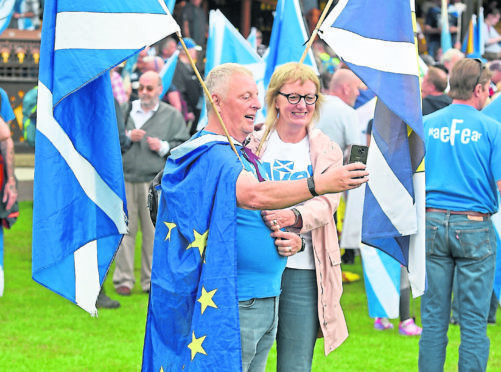 Thousands of pro-independence supporters took to the streets of Inverness on Saturday.
According to organisers, the All Under One Banner march attracted 14,000 people from across the country while police on the ground believed the number was closer to being between 5,000 and 7,500.
The only flashpoints that occurred during what was a peaceful and good-humoured event came when marchers met unionist counter demonstrators on Upper Bridge Street.
Tension increased further when pro-independence motorcyclists repeatedly revved their engines apparently in a bid to drown out A Force For Good speaker – despite the presence of parents with children in prams and dogs among the marchers.
At one point, an unidentified young man grabbed a microphone being used by a unionist spokesman and shouted "Scotland will be free" before a brief scuffle with a marshal trying to retrieve it.
Police quickly intervened to defuse the situation and took the man to one side before releasing him – he later refused to comment beyond saying: "I made my point."
However there was some distrubance at the rally.
Most marchers taking part spoke of how much they had enjoyed the "positive" rally including many Highland councillors, including the SNP's Graham Mackenzie.
He said afterwards: "I'm absolutely delighted with the turn out today, Inverness has come good when it comes to the support we have here for independence.
"There was so much good humour and everyone out to enjoy themselves – if anyone thinks that the older people don't want independence, then I just think this proved otherwise."
Despite the march attarcting large numbers, some local businesses felt the impact with normally busy restaurants being left practically empty.
Cafe One proprietor Norman Macdonald said: "We have had a quieter lunch than normal – we have done about 30% of what we normally would do, so 70% down.
"We would have been be fully booked, no question about it – we are not going to benefit from this."
He blamed the march for the change saying: "I have lived in Inverness all my life and these are flying pickets – where did they come from? It is quite toxic, the atmosphere – by the time they passed here, they were not a happy mob."
Another popular nearby restaurant on the route said they had served three tables when they would normally have been dealing with 80 covers.
The march was welcomed by local Highland MSPs Maree Todd and John Finnie who said it represented ideals not shared by the UK Government.