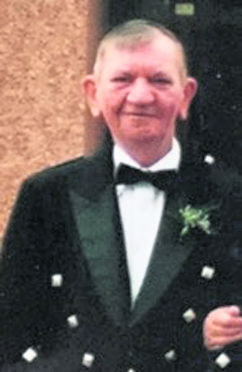 Police chiefs last night apologised to the family of a Highland pensioner found dead a day after he had made a 999 call for help.
A police watchdog found a serious error led officers to the wrong address after 72-year-old Albert Insch made an emergency call from his supported accommodation in Inverness.
As a result, the call was "dropped" – leading to the north's top cop to personally apologise to Mr Insch's family, saying: "We have not displayed the level of professional curiosity I would expect."
Chief Superintendent George Macdonald, Divisional Commander for Highland and Islands Division, admitted efforts to "adequately ascertain his wellbeing did not go far enough".
Following the tragedy, the Crown Office instructed the Police Investigations & Review Commissioner (PIRC), to investigate the circumstances.
PIRC determined officers and ACR supervisors should have made further enquiries to establish whether Mr Insch was safe and well.
However, it could not be found whether, if officers had made more diligent efforts to trace him, there would have been an opportunity to provide medical assistance and prevent his death.
Mr Insch called 999 just after 2pm on October 26, 2016, but the BT operator could not make out what he said.
A recording of the call was passed to Police Area Control Room (ACR), and the PIRC report states staff there could not determine what had been said.
However, their investigators listened to the call and believed Mr Insch said 'Hi, ambulance please, mate'.
Police identified Mr Insch's mobile number had been used on two previous occasions, but ACR staff had wrongly recorded his flat number on one of those occasions.
Two officers responded, but went to this wrong flat. A resident told them the occupier was a woman who was in hospital.
The PIRC report said an employee at the accommodation then claimed he took the officers to the actual flat occupied by Mr Insch, but the officers dispute this account.
The officers were at the supported accommodation for eight minutes before leaving.
The call was closed that evening. The body of Mr Insch was found in his home the following morning by his carer.
PIRC has recommended that police reinforce to operational officers and ACR staff the need to diligently undertake enquiries into 'dropped' 999 calls – where a call ends unexpectedly – and that such calls, especially involving elderly people, are investigated thoroughly to establish the welfare of the person.
The PIRC Commissioner said: "This is a tragic case, where an elderly man endeavoured to seek emergency assistance but due to a previous error by ACR staff in accurately recording his address and a failure by the two officers who attended to establish whether Mr Insch was safe and well, he did not receive that assistance."
Mr Insch's family said: "We have no further comment to make other than to thank the PIRC team for their support and professionalism surrounding the circumstances in the death or our father and husband."
Chief Superintendent Macdonald said: "Following this incident, additional training and clear guidance was implemented and all staff have a full understanding of the actions expected when dealing with enquiries into dropped 999 calls.
"This type of call is one which we face on a regular basis and it is apparent that on this occasion we have not displayed the level of professional curiosity I would expect."
He added: "I have met personally with Mr Insch's family to discuss the findings and I have apologised to them that our enquiries to trace their father's address and adequately ascertain his wellbeing did not go far enough."
TIMELINE
October 26, 2016
9.45am – Albert Insch was last seen alive by home carers at supported accommodation at 22 MacEwan Court, Inverness
2.14pm – 999 call made from Mr Insch's mobile phone and officers sent within 15 minutes. Police control room staff had previously wrongly recorded he lived at Flat 4, 22 MacEwan Court, and officers go there and receive no reply. A resident tells officers that a woman lived at Flat 4 and they discover she was in hospital.
2.56pm – Officers leave, having spent eight minutes at the supported accommodation.
4.20pm – Control room contact officers who say they had not traced the caller.
7.38pm – Control room staff confirm to the officers that both previous calls referred to 'the same male at Flat 4, 22 MacEwan Court'. The officers respond that as Flat 4 was occupied by a female, who was at that time in hospital, and the incident could be closed.
7.40pm – Control room staff close the incident.
October 27, 2016
8.45am – Mr Insch's home carer finds him lying dead on the floor.
October 28, 2016 – Police Investigations and Review Commissioner (Pirc) instructed to carry out an investigation into the circumstances of the death
June 5, 2017 – Pirc report findings to Crown Office and Procurator Fiscal Service (COPFS)
August 29, 2018 – Following confirmation by COPFS that no proceedings will be taken, Pirc publish their report