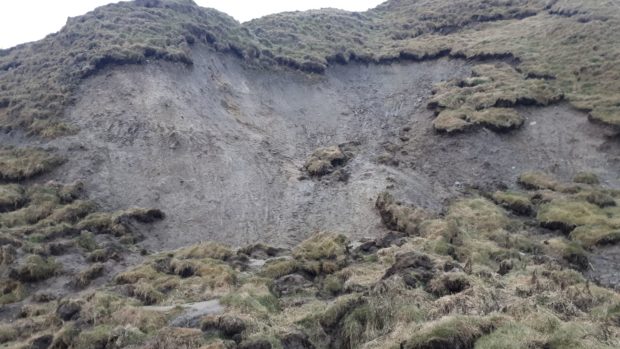 A large landslip on the east coast of Caithness has fuelled concerns for the area's trail routes and also walkers' safety.
Tonnes of earth came down the hillside at Shelligoe, Lybster, at around Christmas time.
The incident happened at the old fishing station, obscuring part of the path and steps, a walk recommended by Scotway's Heritage Paths project.
The landslip was spotted by local resident and keen photographer Derek Bremner.
Mr Bremner regularly walks the coast in pursuit of photographs for the calendars he produces, and as a volunteer surveyor for various walking groups.
He said: "These landslips seem to be happening more and more often. There has also been a big landslide of mud and grass at Sarklet, about four miles south of Wick, one at Occumster and also at Freswick."
Mr Bremner said that in his walks down the coast as far Dornoch and Embo he has been observing more and more coastal erosion.
The issue is of concern to the charity JOG Trail, now in its third year of creating a 147 mile coastal walking route from Inverness to John O Groats.
The JOG Trail has been devised by keen long distance walker Jay Wilson.
He said: "We have recently appointed a ranger, Jim Bunting and he is out recce-ing the trail as we speak.
"There are few people on the trail over the winter, and that's when the landslips tend to happen. When they do we work on re-routing the trail to avoid them and any other issues.
"In the case of Shelligoe, we'll re-route the trail to the braes above the landslip, coming down the set of steps which are unaffected on the other side."
Nick Everett, SNH coastal specialist, said: "Scotland's coasts are in a process of constant natural change, and while our beaches, dunes and saltmarshes are evolving most rapidly, hard rock cliffs can also alter, especially those topped by steep slopes formed in loose deposits.
"Slumps in this type of landscape, such as the one at Lybster, are typically triggered by prolonged heavy rain, and sometimes by storm waves undercutting the slopes – so they are common in winter.
"While such incidents can create challenges, such as for maintaining paths and routes, natural change is also important for the variety and functioning of cliff habitats and the species they support.
"These habitats are nationally important along most of the East Caithness coast, including at Lybster, and are therefore protected within Sites of Special Scientific Interest (SSSIs).
"Erosion is already increasing on Scotland's coast and climate change is expected to further accelerate changes.
"This is why initiatives like the Scottish Government's Dynamic Coast project, which SNH is leading on, are increasingly important to safeguard our coastal infrastructure and assets."