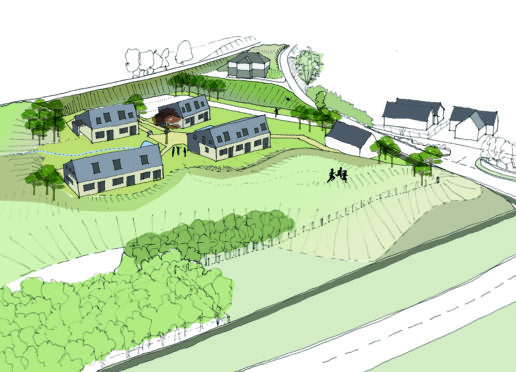 Arisaig residents will today get the first glimpse of plans for the development they hope to build to alleviate housing pressures in their community.
Arisaig Community Trust (ACT) hopes to buy landed zoned for housing at Station Road, and is part way through a feasibility study to look into potential funders.
Community consultation has led to a set of early plans for the development which residents will consider and give feedback on throughout this afternoon in Astley Hall.
The Highland Small Communities Trust has identified a general housing shortage in the village, particularly of rental properties and affordable homes to purchase.
Pamela King of ACT said: "We have been consulting with the community about the housing need, and the feeling is that residents want something different from what housing associations can offer.
"They want sustainable homes using local materials and built to manage the climate and reduce fuel poverty.
"They've had a say in the layout, the designs, paths, parking and accessibility.
"Feedback has been positive, with good community support for something they feel they can drive themselves."
ACT appointed Sam Foster Architects to take on designing the project.
Mrs King said: "Sam went through the tender process along with everyone else, and it turns out he is originally from Arisaig.
"He has done very innovative and exciting work, including at Acharacle primary school.
"He knocked on doors, sat down in people's living rooms and chatted with them about what they would like to see happen."
Now based in Dunfermline with a portfolio which includes community housing projects on Eigg and in Glenuig and Braemar, Mr Foster said the community's ideas had been creative and broad-ranging.
He said: "People told me of their thoughts and concerns, and we played around with wooden blocks to gauge the layout of the site and its orientation.
"We came up with a set of broad ideas and tonight the community will be able to see an initial set of early sketches."
At this stage the development shows 12 homes, including the possibility of two self-build plots.
Selling these at a reasonable rate would contribute to the viability of the project, Mr Foster said.
Otherwise, the community has requested two four-bed homes and up to five two or three-bed homes.
Mr Foster said a district heating scheme would be considered as a means of keeping heating costs down for residents, and this could be electric, or via air or ground source heat pumps.