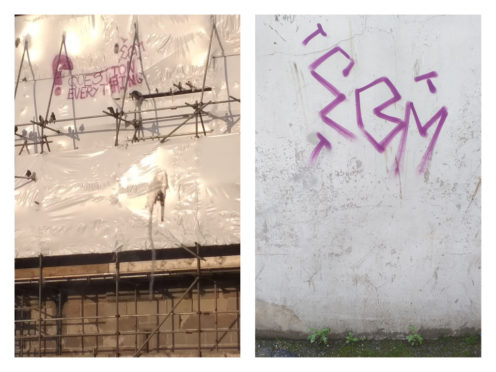 Vandals scaled scaffolding at the Nairn Court House Tower to "such a height" that specialists contractors had to be employed to cover the graffiti.
Police said an adjoining residential building and a small building close to Nairn Harbour on Harbour Street were also vandalised.
The incidents occurred at around 1.10am yesterday.
Constable Kirsty MacDonald said "We are appealing for witnesses who may have seen a small silver car on both Harbour Street and the High Street in Nairn with two male occupants.
"The men were dressed in dark clothing but one of the men changed into white overall-style trousers on the High Street.
"The individuals responsible have gone to great lengths to scale scaffolding in order to deface the Courthouse Tower. This is highly dangerous and could have resulted in a serious injury.
Locals gather to witness lift-off of Nairn's courthouse steeple
"They scaled the scaffolding to such a height that specialist contractors had to be employed to cover the graffiti.
"If anyone witnessed this or has any information, please report this to Police on 101 using reference number NM/1421/19. You can also contact Crimestoppers on 0800 555 111."
A Highland Council spokeswoman said that having to pay for the removal of the unwanted slogans represented an unnecessary use of taxpayer cash.
She said: "Apart from the danger that someone must have put themselves in, graffiti is a total waste of taxpayer money and diverts resources from council works and services."
Two weeks ago, an intricate operation took place to remove a six-tonne steeple on top of Nairn's courthouse paving the way for upgrades to the building.
The masonry was lifted from its location by crane to allow for extensive renovations to take place, as part of a wider revamp of the town's courthouse.
Anyone who witnessed the incident, or nay have information which could help the police, has been asked to call the force on 101 using reference number NM/1421/19.
Anyone who wishes to remain anonymous should call Crimestoppers on 0800 555 111.