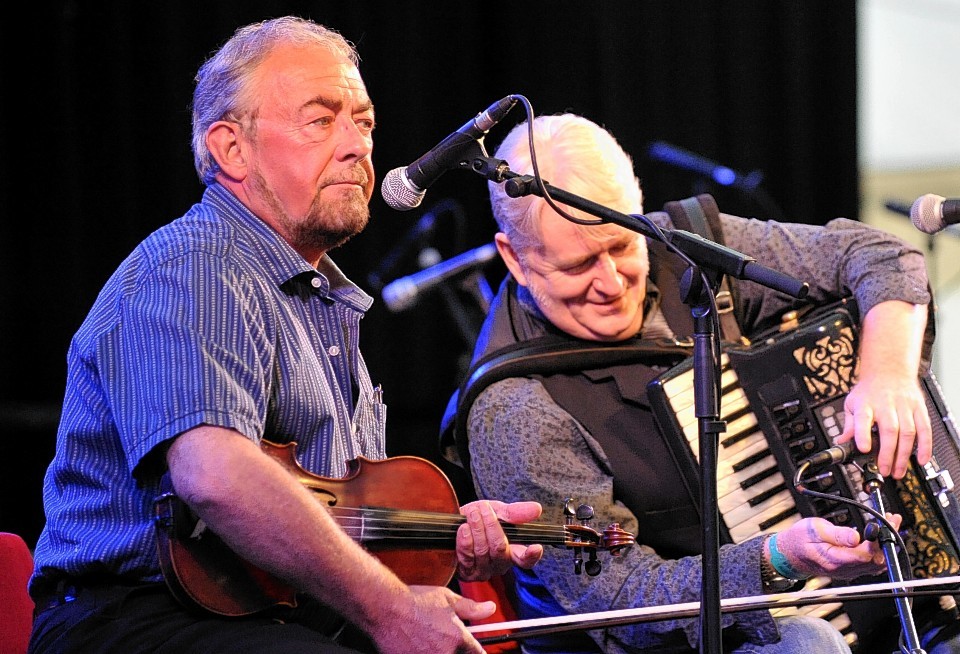 Thunderous applause greeted Aly Bain when he made his comeback after a heart scare – appearing with Phil Cunningham on to the stage of Eden Court's main theatre on Saturday night.
Once it had died down, Aly said: "It's good to be back. Really, good to be back."
And we knew he meant every word of it.
For the legendary Shetland fiddler had a triple heart by-pass earlier this year which forced him, and accordionist Phil Cunningham, to cancel shows.
This was the first time they'd performed together again since then.
Phil was clearly delighted to have his old pal back with him and the duo constantly patted each other on the back and simply couldn't stop smiling.
As well as a love of music, they now have something else in common – heart conditions.
Phil revealed he'd had two major operations on his heart, while Aly was playing catch-up with just the one.
"Aly and I can now honestly have heart-to-heart conversions," said Phil, adding that they were considering calling their next album 'Braveheart'.
The craic between them has always been fun, now even more so.
The audience was treated to a mini history of their friendship too, when they first thought about playing together after enjoying a few drams in The Poceros lounge bar in Aberdeen.
Since then they've travelled the world and entertained millions of people, though they told their audience there's no place like home.
"We'e both played the big Carnegie Hall in New York, but honestly, we prefer the Carnegie Hall in Clashmore near Dornoch," said Phil.
The concert was meant to begin gently, to ease Aly in, but instead got off to a flying start with reels Dr Donaldson/The Anvil, which showed Aly's op hadn't affected his playing.
The programme was wide-ranging and varied – a waltz dedicated to the north-east's own, Robbie Shepherd; a moving tribute to the late Irish musician,Liam O'Flynn: reels, jibs, Swedish and gypsy-style music.
Throw in solo numbers and a few featuring Phil on the piano, rather than piano accordion, and once again they demonstrated their immense musical skills.
With numerous funny anecdotes, many relating to their hospital stays, and a few of Phil's famous cheesy jokes thrown in for good measure, this was a superb night of entertainment from start to finish.
Before receiving a very well deserved standing ovation, the lads said they'd be back again next year, while Phil will return with his hugely popular Christmas Show later this year.
And as one, the packed theatre audience agreed, it was really good to have them back.