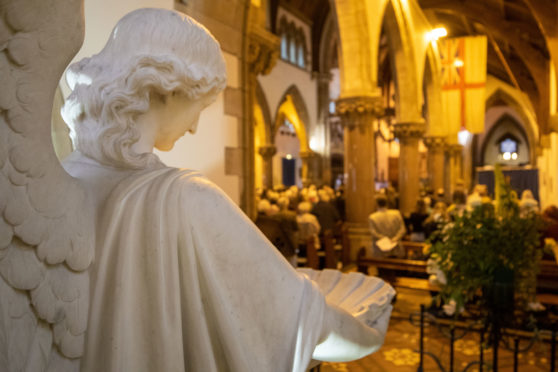 Kind-hearted souls at an iconic landmark in the city of Inverness are extending an open invitation this Christmas to feed those who may be alone or seeking company to enjoy a warm meal with.
Inverness Cathedral is offering the free three-course meal to those who may be on their own this Christmas, or others who have recently lost a loved one or families who wish to share the Christmas joy together.
The offer of a warm meal and place of comfort by staff at the cathedral has been praised for its efforts to aid to tackling loneliness and social isolation during the festive period, with local councillors expressing their admiration for the event.
Provost of Inverness Helen Carmichael said: "This really does portray exactly what Christmas is about and I thank the cathedral for being so inclusive and welcoming to all.
"By welcoming people in and to share a warm meal together is a really good thing to do but even more so at Christmas time and it shows what the church is all about.
"It really does express the kindness of Christmas to share with one another and I sincerely hope that people who may need some company or something warm to eat do come together."
Mrs Carmichael praised the generosity shown by the cathedral on the back of recent events to provide warm clothing free of charge to members of the local community to ensure they are best equipped for all elements at this time of year, including sub-zero temperatures.
Depute Provost of Inverness Graham Ross, whose ward covers the cathedral area, said the event is an "absolutely incredible gesture" as he commended all involved.
He added: "Christmas is a wonderful time of the year for so many people yet it can greatly heighten people's sense of loss and of being on their own.
"I am sure that this will make a significant difference for those that will attend and this really is the true spirit of Christmas."
In previous years up to 50 people have attended the Christmas lunch, from the elderly to young families, with music and entertainment being provided including a performance local musician Bruce MacGregor.
Inverness Cathedral is currently in its 150th year of delivering a dedicated place of worship for Highlanders with special commemorative events taking place in recent months.
The cathedral has said that according to eyewitness accounts, more than 1200 people filled the cathedral on its opening day to celebrate the momentous occasion.
It is open daily to visitors who wish to partake in quiet reflection or prayer.