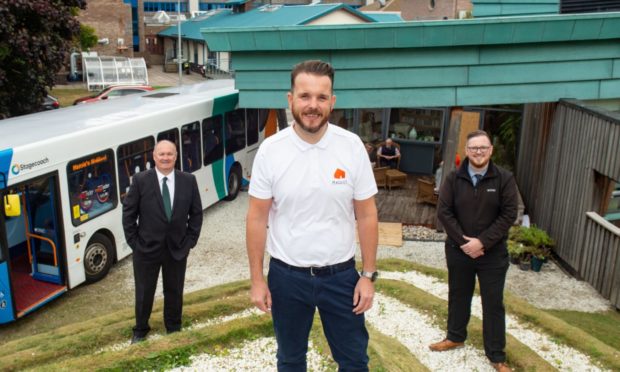 Maggie's Highlands has joined forces with Stagecoach Highlands to help keep the charity at the forefront of everyone's mind.
The Highland cancer charity has announced the transport operator as their charity partner of the year helping to raise awareness of their cause and support the cause financially.
The unique partnership, which will run until September next year, will see Stagecoach staff taking part in a number of fundraising initiatives over the course of the year to raise funds for the Inverness centre.
The milestone occasion is also being marked with a signature bus being wrapped in Maggie's custom orange livery ahead of its tour of the Highland area as well as brand advertising on board its other buses.
Andrew Benjamin, Maggie's fundraising manager said: "With Stagecoach being such a big operator across the Highlands, to have them in working partnership with Maggie's now as charity of the year will help so much. It will create that awareness so people living with cancer across the Highlands will hopefully see more about what Maggie's does and how we can help them.
"Maggie's has been providing support for people living with cancer across the Highlands for 15 years. We rely entirely on voluntary donations to support our unique high quality programme of cancer support and this partnership with Stagecoach Highlands has come at a crucial time especially as people with cancer need Maggie's more than ever.
"We need this fundraising and awareness drive to help keep Maggie's front of mind."
Some of the proposed fundraising initiatives include staff taking part in Maggie's Halloween Run the Runway event as well as hosting charity haircuts and a fundraising calendar.
The firm are also considering a challenge, whereby staff complete the equivalent mileage from Maggie's centre in Inverness round all 26 centres across the UK.
Mr Benjamin's mum Susan has been a regular user of Maggie's since being diagnosed with bowel cancer in 2019 followed by liver cancer earlier this year.
She spoke highly of the charity, saying: "It's been fantastic. It's so nice because you go into the hospital, you get the diagnosis but you come up and you're not quite sure what they said but you can come in here and they'll explain it. It's been wonderful.
"They are all very positive and that's what you have to hang onto."
David Beaton, Managing Director for Stagecoach Highlands added: "The support provided by the charity is second to none and I know many of our staff and our customers alike have benefitted from the amazing work the Maggie's team do all year round."