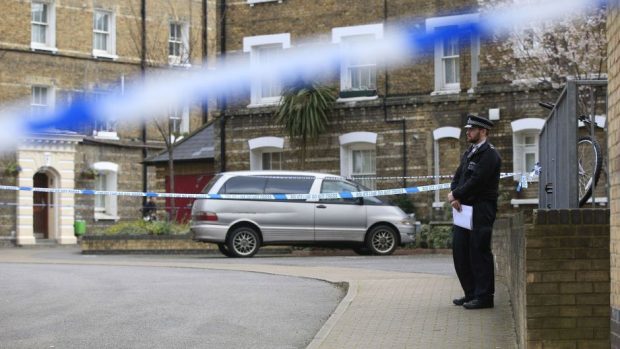 A neighbour of the man arrested for the murder of policeman Gordon Semple told how the suspect answered his door wearing nothing but Speedos and a pair of glasses.
Neighbour Martin Harris, 49, knocked on the man's door after his brother, Stephen, had complained about the smell.
But the suspect calmly told him that he was "cooking for a mate."
Martin said: "My brother complained about the smell on Tuesday and asked me to go and complain.
"I banged on the door and a man answered wearing Speedos and a pair of glasses."
Martin said that there was a "terrible stench," adding: "I knew it was a dead body.
"I asked what as going on and he said he was cooking for a mate.
"I said I was going to call the police but he didn't seem worried about it.
"He didn't seem bothered and shut the door."
Martin suggested that the man had "obviously chopped someone up in the bath", but couldn't back it up.
Meanwhile, another neighbour told how there was a regular stream of people "coming and going" from the flat where PC Semple's body was found on the Peabody Estate near London Bridge in south London.
Detective's made the gruesome find at the address on Southwark Street six days after the Met officer was last seen alive.
The neighbour, who wouldn't be named, said he had never seen the 59-year-old officer on the estate before.
He said: "I know that everything was going on while I was there, I spoke to the people while it was happening.
"When did the Old Bill go missing? When did they find the body? Whatever has happened, it has happened up there.
"The geezer invited me in to his gaff so many times in the past. There's lots of weird things going on.
"I hadn't seen the copper there before."
The neighbour, who was fearful of revealing too much over the case's sensitivity, claimed he had seen something "weird" around a month before the discovery.
He said: "I want to speak to the Old Bill because I have got something here that could potentially be massive.
"It's what they were doing. Something was happening a month ago. I thought it was weird, but I didn't think much about it then."
Horrified residents on the estate where PC Gordon Semple's body was found claimed the murder suspect left scented candles outside his flat to mask the "terrible stench."
Heather Brown, 55, who lives on the Peabody Estate in Southwark Street, said: "He had put scented candles outside his flat because of the smell.
"His neighbour Martin knocked on the door because they just smelt this horrible smell.
"He had smelt a dead body before because someone else had died there a long time ago – that's why he knew the smell."
Heather, a manager at stationers Ryman, said it was "mental" that PC Semple's body had happened so close to where she lived.
She said: "I go to work and leave my windows open because on this estate there's never any problems.
"I've lived here 30 years and it's a very quiet estate and a very quiet community. It's very unusual."
She added: "Obviously, he's come here of his own accord."