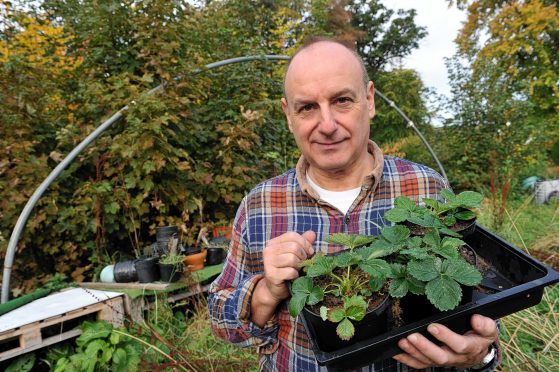 A gardening guru believes his plan to create a row of massive polytunnels in Elgin will help reduce depression.
Patrick Thirkell owns the Oldmills expanse in the west of the town, and wants to build a series of 115ft long polythene structures in a field there at a cost of £50,000.
The 61-year-old said the tunnels help alleviate seasonal affective disorder, where a lack of light causes depression during the winter months, as entering them is like "stepping into summer".
He has already erected one of the semi-circular hoops which will form the end of a polythene growing space – and hopes to have three built by the end of the winter.
Once they are in place, Mr Thirkell will let people grow their own produce within the tunnels free of charge and will welcome visitors to enjoy the warmth and greenery inside.
He said: "It can be cold and miserable outside as we approach winter, and that gets a lot of people down.
"But entering a polytunnel is like stepping into summertime.
"There are the sights, sounds and smells of summer – we will even have butterflies fluttering about.
"These will be happy places, and I want them open at all times."
Mr Thirkell also aims to create a communal area within the site, and has spoken with mental health groups in Moray about arranging visits to the plot.
The former RAF navigator has recently returned from delivering a series of talks in Canada about the affect polytunnels can have on depression.
He visited the Nunavut region, in the north of the country, which is one of the world's most sparsely inhabited areas.
Its mostly Inuit population suffers from a suicide rate 10 times the Canadian national average, with many succumbing to seasonal affective disorder during the long winter months with little natural light.
Mr Thirkell added: "It is so far north that it gets very dark for very long periods during the winter.
"But there have been huge advances in lighting, and creating polytunnels over there could have a big impact on mental health."
The horticulturist is yet to receive planning permission for the project, but has stockpiled heaps of supplies on his property for when building work gets under way.