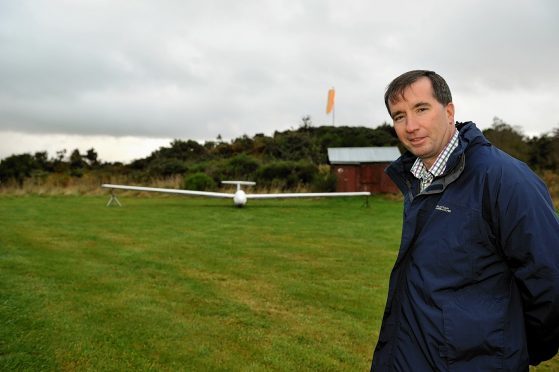 A Moray aviation group is flying high after confirming plans to create a new 1,000ft runway at its base outside Elgin.
Members of the Highland Gliding Club currently use a stretch of grass in a field at Birnie, which means rain and snow often puts a dampener on their activities.
However, the group's chairman, Robert Tait, has now received thousands of pounds from a local businessman to invest in the creation of a new weather-proof runway at the site.
He has ploughed a strip into the field in preparation for the new addition, which he expects to be in place by the end of next month.
The runway will be made from Perfo, a rubberised plastic substance, and enough of the material will be laid to allow the club's heaviest gliders to take off.
Last night, Mr Tait explained how it would benefit the 60 flying enthusiasts who are attached to the group.
He said: "Our problem with the grass is that it is liable to build up surface water in rainy weather, and we have soft ground appearing.
"But if we lay this stuff down, that won't happen, and that is something we have been trying to achieve for more than 20 years.
"That will mean more flights all year round, and taking off will be easier."
Mr Tait added that the new runway will also carry safety benefits, because pilots will have a designated stretch for taking off and will not attempt to do so in areas of the field which could lead them into harm.
The club chairman originally hoped to secure grants from charitable bodies to create a £250,000 tarmac runway – but the cost involved proved prohibitive.
However, he explained that the Perfo track will be more environmentally friendly – and will offer similar rewards.
Members will lay down the material themselves within the next month, after it has been delivered from Germany.
Mr Tait declined to name the benefactor who had made the project possible, or detail the amount of the donation he had offered.
But he said the man was a longstanding supporter of the Highland Gliding Club.