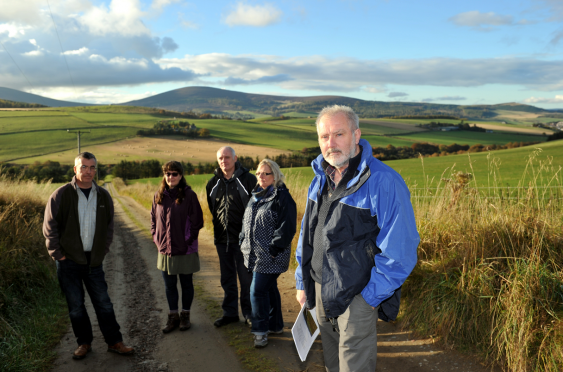 An energy giant has sparked fury after starting drilling work for a controversial power line project – despite not yet having planning permission.
Residents in Speyside are outraged that Scottish and Southern Energy Networks (SSEN) has begun preparatory work for the scheme, which will hook Dorenell wind farm to the National Grid.
The firm has been boring holes into the ground across the 14-mile route from the 59-turbine wind farm to Blackhillock substation, near Keith.
A spokesman insisted the "standard procedures" were just tests to prepare contractors for what they might find under the ground if construction is approved.
But opponents of the scheme claimed the drilling proved that the power firm is intent on moving forward with the project regardless of local views, amid suggestions they deliberately kept the work secret.
Last week the firm set up complex boring equipment in fields near Milltown of Auchindoun, east of Dufftown, to prepare for the 78ft electricity poles. Work is ongoing to drill about 40 holes along the length of the 14-mile route.
Colin Mackenzie has fronted a campaign to stop the power project to preserve the natural beauty of Speyside.
The architect, who lives on the outskirts of Dufftown, said: "I imagine they have got a timetable and they have to do this preparatory work now to fit in with it on the assumption they are going to get approval.
"I'm surprised they're prepared to spend all this money on activity and work before they've actually had a decision about it.
"What's been clear throughout is that they're not interested in whet members of the public have to say, just the statutory consultees like Scottish Natural Heritage and Historic Scotland."
One resident, who lives near where drilling has already taken place, was surprised to see the drilling start without any planning permission.
She said: "We could certainly hear it, it was very loud. What's more concerning is that we weren't consulted about it, it just happened.
"They weren't any of the poles located in the ground at any point. They were just tests. This is something that affects us very personally but at no point have we been told what's happening."
SSEN said permission was gained from landowners to drill the holes, which are about 10ft deep. If approval is given for the route by the Scottish Government, the firm expects to start construction early next year.
As well as concerns raised by Speyside residents, fears have also been expressed by Marine Scotland and Forestry Scotland. Historic Environment Scotland has concerns about the view from Auchindoun Castle but do not consider them serious enough to object.
Dufftown bed and breakfast owner Alistair Jeffs was among more than 20 residents that met with SSEN's project team and Moray MSP Richard Lochhead last week.
Last night the businessman, who is concerned the power line route will hit trade, explained there was no mention of drilling during the talks.
He said: "This is the problem we've had with them all along. It's almost a fait accompli.
"There was no mention of the drilling at all during the meeting. I would have thought it was the kind of thing they would mention if it was imminent instead of keeping it quiet."
A spokesman for SSEN confirmed the power company was currently carrying out test drills on the route.
He explained boring the holes was "common practice" on similar projects to prepare contractors for the work that will be done.
Project manager Russell Maxwell said: "The works are required to fully understand the ground conditions to help inform the final design of the foundations. These works will continue over the coming months whilst we await determination from Scottish Ministers for the planning application."