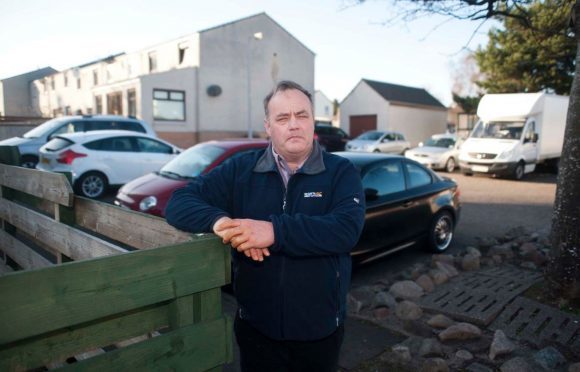 A disabled resident in Moray's biggest town is alarmed that overcrowded car parks could start to affect his health.
Raymond Bissett has had two liver transplants and had seven toes amputated due to an overdose of adrenaline.
The trauma cost the 58-year-old his job as a roads designer three years ago when he retired due to ill-health.
And the Elgin resident requires carers to visit him twice a day to help him with basic tasks.
However, the St Andrews Square resident is finding his time with them restricted, because of difficulties in parking close to his home.
Mr Bissett said: "When the carers come, they are supposed to be with me for 15 minutes to help me get dressed.
"Sometimes I don't even get five minutes with them, though, as they struggle to get parked. They have had to park a mile away in the past.
"It's not their fault, they have got to get off to the next appointment. It's just a crazy situation at the moment. They're doing their best, but they can't get to me."
Mr Bissett believes an increase in commercial vehicles using nearby car parks in recent months has put residential spaces at a premium.
He has now turned to Grampian Housing Association to enforce restrictions on works vehicles parking at St Andrews Square overnight.
But a spokeswoman for the firm stressed they had no jurisdiction to enforce parking regulations, although they were prepared to offer guidance on other options.
Mr Bissett added: "It's mayhem out there in the evenings. I was on a life-support machine for three months and managed to build myself back up.
"If I am only getting a five-minute visit, then it is not the length of time I need. I just hope it doesn't affect my health."
Last night, Elgin Community Council chairman Alistair Kennedy explained he had been made aware of a complaint in the Pinefield area and that residential spaces were at a premium throughout the town.
He said: "There are a lot of parking problems. When some of the houses were built, families only had one car – now they can have two or maybe three. There just isn't the space in some of the streets anymore."