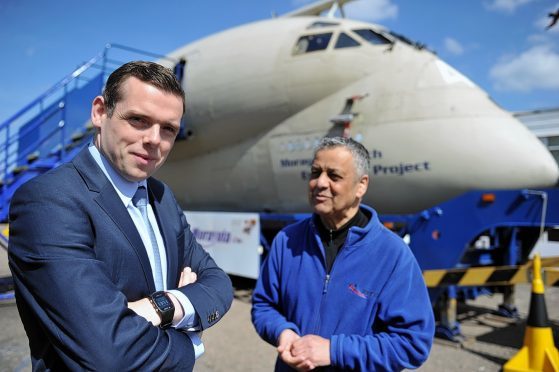 Battle lines have been drawn over Moray's military bases ahead of next month's general election.
Conservative Douglas Ross is hoping to usurp the SNP's Angus Robertson in the Westminster vote.
Surrounded by relics from the region's aviation past in Kinloss yesterday, the Tory candidate appealed for the support of forces families.
While being shown around the Morayvia aviation centre, Mr Ross admired a Nimrod aircraft that had made its home at RAF Kinloss.
He said the attraction was a celebration of the area's "proud forces history".
And Mr Ross warned that a vote for his Nationalist rival would put that connection at risk.
His SNP rivals, however, drew attention to a string of Conservative cutbacks.
Mr Ross argued: "We have seen significant investment in RAF Lossiemouth from the Conservative government and local people want to see that continue.
"We have promised to do that, whereas the SNP has promised uncertainty on its defence plans.
"They have offered no clear answers on how an independent Scotland would defend itself, but it is estimated to bring about 30,000 job losses.
"While canvassing, I have noticed an awful lot of concern from personnel and their families about what could happen in the event of independence.
"Defence is a crucial part of Moray's economy and people don't want that under threat."
But last night, his SNP opponents aimed fire at Mr Ross over his supposed "hypocrisy".
A spokesman said: "This is rank hypocrisy from the Tories, who have decimated defence spending in Scotland – slashing bases, personnel and investment, ending the Nimrod programme, and cutting our maritime patrol capability."
The Nationalists referred to Defence Secretary Michael Fallon's pledge to increase defence spending as "a cynical election bribe"
The spokesman added: "The biggest threat to our military facilities is the Tories, who have driven down personnel numbers to a historic low.
"The proposed base closures announced by the Tory government in November will see will create a 20% reduction to the defence estate in Scotland, the end of the Royal Navy's presence in Fife, and the near total removal of the Army from large parts of the country.
"In contrast, the SNP has fought tooth and nail for defence in Scotland – campaigning vociferously against base closures, challenging the Tories on suitability of equipment and defence procurement."