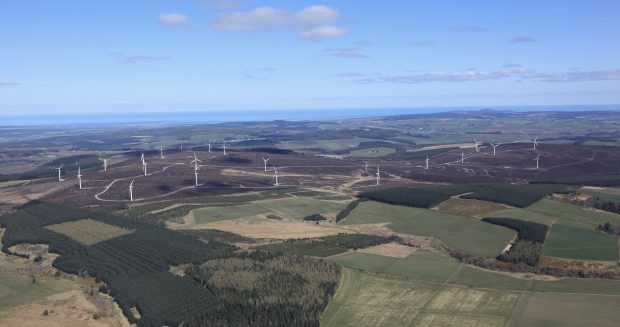 A councillor has warned that Moray's picturesque hillsides are at risk of being engulfed by turbines after the Scottish Government controversially approved a wind farm expansion in the teeth of local council opposition.
Derek Ross, who represents the Speyside Glenlivet ward, has lashed out at SNP ministers after they endorsed a scheme to extend the Hill of Towie wind farm at Drummuir from 21 to 37 turbines.
Moray Council's planning committee had objected to the proposal because of the cumulative effect of adding 16 new structures – measuring up to 400ft tall – to the area between Keith and Dufftown.
Councillor Ross now fears that the government's approval of the plans tendered by Renewable Energy Systems (RES) could pave the way for it to grow even further across the Moray countryside.
He said: "This flies in the face of local democracy, and it sets a worrying precedent.
"Where will it stop? They could come back asking for more and more and more turbines.
"And it seems that the locally elected members of the council's planning committee can object to something, but that matters little in the long run."
The proposal to expand the wind farm first came before Moray Council in February 2014.
Members of the planning committee voted 5-5 when debating whether to object to the scheme.
Douglas Ross, who was then chairman, used his vote to object to the scheme and trigger a public enquiry.
Simpon Peltenberg, the developer's head of projects in Scotland said: "RES has carefully and sensitively designed an extension to the Hill of Towie Wind Farm.
"As a section 36 project, it was submitted directly to the Scottish Government who consented it through a thorough and democratic process.
"Moray Council, as a statutory consultee, had the opportunity to provide its views to the Scottish Government and at the committee meeting councillors were equally split with the two local councillors, alongside three others supporting the project.
A Scottish Government spokesperson said: "This particular case was considered carefully following a Public Local Inquiry into the proposed extension of the wind farm.
"This is an established process and was led by an independent reporter who took evidence from all interested parties, including Moray Council."