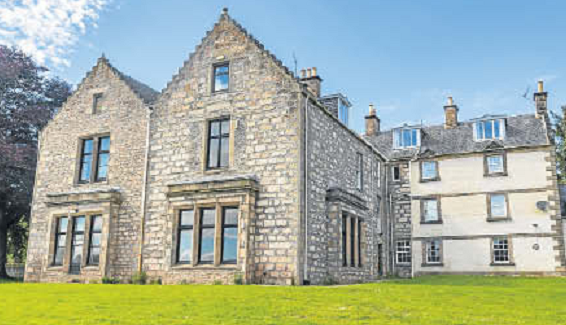 A Moray couple has launched an ambitious refurbishment of a former school dormitory to help unlock the massive tourism potential of the region's coastline.
Since 1934 students from across the globe attending classes at Gordonstoun have been welcomed to Duffus House, near the village it shares its name with.
However, the exclusive school with links to royalty has now moved out of the building they have leased from Duffus Estate for the last eight decades.
Last night tourism bosses explained considerable work was still being done to promote the region's beaches and cliffs to an international audience.
Now the guardians of the 18th century baronial home want to aid their efforts by revitalising the house into an events venue and holiday accommodation complete with a cafe and shop.
And it is hoped the extra footfall will entice hundreds of visitors a year to explore the region's stunning coastline.
Estate partner Ed Dunbar, who is also chairman of the Moray Coast Tourism Group, believes the area's shores remain a "hidden gem".
He said: "We set up the Moray Coast Tourism Group a couple of years ago with a few like-minded businesses along the coast to promote it as a visitor destination.
"There's always been a bit of a feeling that for people coming from abroad the focus is mainly on whisky and those attractions."
Mr Dunbar added: "We already get quite a lot of parents of pupils wanting to stay here but while a house or cottage is good for a couple of days there's not much accommodation for just one or two-night stays.
"We've found that generally there's a lack of good quality bed and breakfast accommodation in our area."
Plans submitted for the building show it could accommodate three holiday apartments as well as about six bed and breakfast rooms.
Gordonstoun has been leasing the building since 1934 and it has been a dormitory since then, except for a brief period during World War II when it was commandeered by the army.
It is hoped opening its doors to visitors from further afield will also shine a light on local attractions, including St Peter's Kirk, which has roots stretching back nearly 800 years, and Duffus Castle, which was destroyed in a rebellion against English rule.
Last night Laurie Piper, operations manager of Moray Speyside Tourism, agreed the coastline still had untapped potential despite being named as one of the world's finest by National Geographic.
He said: "There's still considerable scope to increase and widen the appeal of the Moray coast to visitors from across the world.
"Based on the dolphins that come so close to the land, the golden sand and the clear blue water it's undoubtedly one of the best there is."
John Cowe, chairman of Moray Council's economic development committee, added: "The hospitality industry, Moray Speyside Tourism and everyone else are working hard to promote the area – everyone knows the Whisky Trail and whisky is made in Speyside but they don't know where Moray is.
"I was speaking to two young men in the forces. Their girlfriends had never heard of Moray and didn't know where it was before they moved up here. Now they love it – I hear that story so many times."