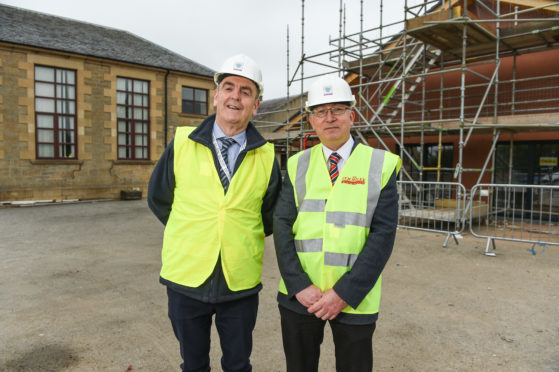 New pictures have revealed the classrooms Fochabers primary school pupils will be walking into when construction is completed on a £2million extension.
The major construction project at Milne's Primary School, which dates back to 1846, is expected to be completed in time for the new school year in August.
When it opens, the 6,800 square foot extension will house three nursery areas and two primary classrooms as well as "quiet time" spaces and support facilities.
It will allow the school's 200 primary-aged pupils and 20 nursery children to all be taught within the same building.
In addition, a "substantial" refurbishment of the school's 4,300 square foot dining hall is also underway, with workers installing new electrical systems, thermally-efficient cladding and double glazing.
Marc Macrae, who chairs Moray Council's planning committee, said: "It will have renewable technology including under-floor heating, solar panels and air conditioning which adjusts its flow through the classrooms.
"These are new additions to a 172-year-old building and it's quite interesting to see.
"It will certainly be a fantastic teaching facility.
"Currently the nursery is in a Portakabin and it was there when I was a child at school so it's very much in need of replacing.
"The classrooms will be very welcome, as they will have all the mod cons of teaching.
"I imagine the teachers will be eager to get in there themselves."
Following the completion of the new section, the existing nursery will be torn down and replaced with a new play area and outdoor amphitheatre.
Councillor Macrae said: "When the old school is demolished it will be of great use to them all.
"Obviously just now they have lost a great deal of space, so they will be glad to get that back."
Last June Moray Council appointed Morgan Sindall as the contractor for the works.
The firm's managing director, Stuart Parker, said: "We're looking forward to delivering an inspiring teaching and learning environment.
"I'm confident that the improvements to this historic school site will be well received by staff and pupils alike."