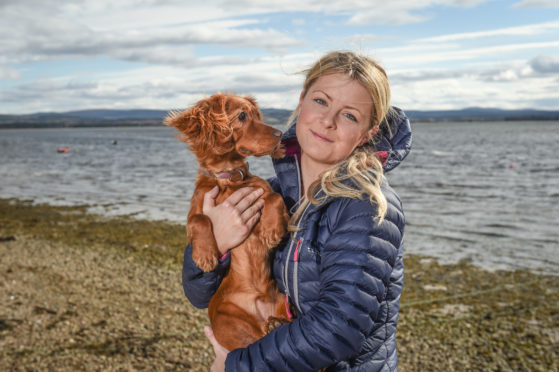 A dog owner has thanked the quick-thinking volunteers who saved her beloved pet from being swept out to sea.
Sarah Blackburn's seven-month-old working cocker spaniel started struggling against the tides off the coast of Findhorn on Sunday afternoon.
After 45 minutes of panic and trying to get her back ashore, Luna was rescued by a lifeboat crew from the Moray Inshore Rescue Operation (MIRO).
Miss Blackburn said: "We were just walking along the grassy bank and Luna saw some birds, and she always chases them.
"There was another group of birds, and another, and she just kept running.
"I started to get a bit concerned as she was getting smaller and smaller, and had run right into the middle of the bay."
The tide quickly changed and Luna found herself stuck in a current and unable to get back to dry land, with her desperate owner keeping track of her from the shore.
"I thought I was never going to get back to her," Miss Blackburn said. "I thought that was it.
"Then I saw a speed boat and they managed to save her."
She added: "I am grateful for MIRO and for the locals who stopped to help as, without them, Luna would have drowned.
"It would have been like losing a member of our family, but thankfully we didn't have to break that news."
Soon after the rescue, Luna was tucked up in bed at home in Forres.
Her owner said: "She was really quite distressed and was howling when the men took her out of the water.
"She was cold and wet, and I was cold and wet – but she recovered a lot faster than I did."
Miss Blackburn is warning other dog owners to keep a close eye on their pets when in the area.
"It can be so easy for something like this to happen," she said.
"It's a very common dog walking spot.
"I am so thankful for the volunteer service as they were just amazing.
"It would have been a lot worse if they hadn't been there."