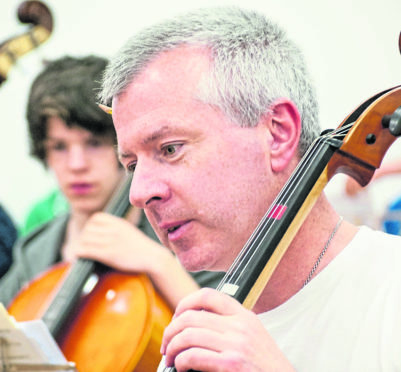 An inspirational music teacher has quit in protest at a huge rise in lesson fees.
Moray Council is poised to increase its annual tuition fees by 85% next year to close a massive black hole in its budget.
Financial plans from the authority have proposed increasing the charges to £699 in order to generate cash to help balance the books.
Now the council's head of instrumental instruction service, John Mustard, has quit his post after 30 years of dedication to sparking the talents of youngsters – fearing the move could deprive them from a lifetime of enjoying music.
He said: "The reason is simple, I cannot agree with the decision by the council to raise the cost of music lessons by 85% to what will be the highest level in Scotland.
---
>> Keep up to date with the latest news with The P&J newsletter
---
"In a low wage economy such as Moray this will have the effect of depriving many young people of a valuable skill and pleasure for life.
"I regret this deeply but I cannot be part of a decision that will do so much damage to a service I have built up to national acclaim over the last 30 years."
Moray Council's music tuition service currently provides classes to more than 800 students and sends more to national orchestras than anywhere else in the country, per head of population.
Mr Mustard, who is a respected cellist, has organised annual concerts, classes and performances for tens of thousands of pupils during his career.
Moray Council has proposed increasing the charge for its music classes as part of efforts to close a budget gap of about £14 million, which also include introducing a fee to collect garden waste bins, increasing the size of P2 and P3 classes and a 10% rise in charges for harbour users.
Music lessons have also been targeted by similarly cash-strapped Midlothian Council, which became the first authority in Scotland to axe classes outside the curriculum last week.
Yesterday, Moray Council thanked Mr Mustard his decades of service to the region.
A spokesman said: "We are sorry to see John Mustard leave, he has created a huge musical legacy in Moray. We wish him well for the future."