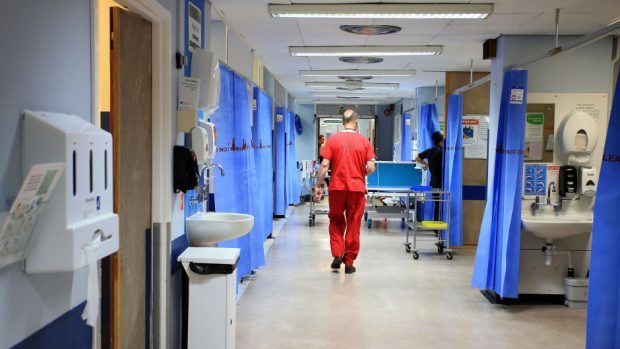 New figures have revealed that rising numbers of emergency workers are taking time off work struggling with stress and mental health problems.
Last year 554 nursing and midwifery staff employed by NHS Grampian were off sick compared to 449 in 2016.
And 18 doctors took time off due to suffering from anxiety, stress, depression and other psychiatric illnesses last year compared to eight in 2016.
A total of 238, 341 hours were lost due to sickness leave at medical facilities across the region last year.
Rising numbers of north-east police officers have also taken sick leave with 47 crime fighting staff off in 2018 compared to 34 the previous year.
The new figures were released as Minister for Mental Health Clare Haughey visited Moray to find out about the services on offer across the region.
Mrs Haughey learned about various initiatives at Speyside High School, the Moray Wellbeing Hub and the Moray Mental Health and Wellness Centre yesterday.
She was told about the MENtion It Moray scheme, the well-being bus which tours the area and also given information on projects set up at schools to help teenagers in need of support.
Mrs Haughey said: "This has been an excellent opportunity to witness the great work done by the Moray Mental Health and Wellness Centre and the Moray Wellbeing Hub to provide support and advice about mental health to the local area. It's clear the team are making a real difference to people's lives.
"Looking after our mental health and well-being – and that of friends, family and colleagues – is crucial, and centres like this are equipping people with the right advice and knowledge to do so.
"We are absolutely committed to bringing change to people's lives and ensuring that mental health is given parity with physical health.
"That's why we have announced an additional £250million of investment in mental health over the next five years to ensure people get the right care at the right time in the right place."
The Royal College of Nurses (RCN) in Scotland urged NHS Grampian to work hard to curb staff shortages and ensure nurses felt valued at work.
Colin Poolman, Senior RCN Officer for Grampian, said: "Every day nurses and health care support workers go on to their shift wanting to deliver safe, high quality care to patients, but staffing shortages mean that they often struggle to provide the care they want to.
"The personal and professional toll of constantly feeling like you are failing your patients is enormous and must not be underestimated. For too long, nursing staff have had to deal with increased demands on their time whilst also battling chronic staff shortages."
A leading Scottish mental health charity said the figures were "not surprising" considering the nature of its work.
Nigel Henderson, chief executive of Penumbra said: "In recent years, the stigma surrounding mental ill health has decreased and in turn, more people may now feel comfortable to be able to approach their employer about taking time off for these issues.
"With the rise in absenteeism, we could also be looking at a decrease in presenteeism – when an employee turns up to work when they should be taking time off.
"Due to the nature of their work, and the increased pressure on spending across our public services, it is perhaps not surprising  that more people experience stress, anxiety and other mental health issues."
Police Scotland and NHS Grampian stressed there were various services on offer for staff battling mental health problems.
A spokeswoman for NHS Grampian attributed the rise in figures to increasing numbers of employees seeking help.
She said: "These figures reflect, in part, the significant work we have undertaken to highlight the importance of mental health and well-being for our staff.
"As a result, many now feel more comfortable accessing help or support for any mental health issues they are facing. These may be work related, as a result of personal issues or perhaps some combination of the two.
"In NHS Grampian we have an excellent range of proactive and reactive services available. Within occupational health we have self-referral, self care resources, referral by manager and counselling. In addition, we have online resources for staff which are regularly promoted across the health board.
"It should be noted NHS Grampian's sickness and absence rates are lower than the NHS Scotland average."​
Superintendent Richard Craig of the north-east police division said they were committed to helping officers with mental health problems.
He said: "In North East Division the welfare, health and well-being of our police officers, special constables and police staff is of the utmost importance to us and we are committed to supporting those who experience mental health issues.
"The work of a police officer is very rewarding and uniquely challenging. Promoting positive mental health and well-being via line managers is crucial, as is the early identification of when someone may be in need of advice or assistance.
"Mental health illnesses do not bear the same visible symptoms as physical injuries, therefore we are committed to recognising and understanding the signs at the earliest opportunity and putting in place the support needed for our staff."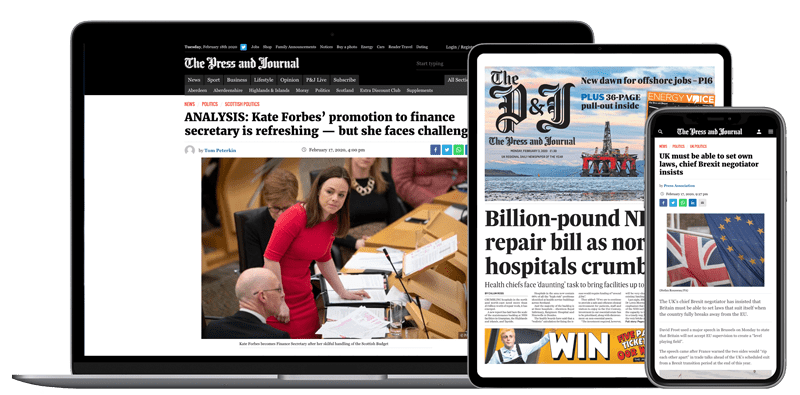 Help support quality local journalism … become a digital subscriber to The Press and Journal
For as little as £5.99 a month you can access all of our content, including Premium articles.
Subscribe