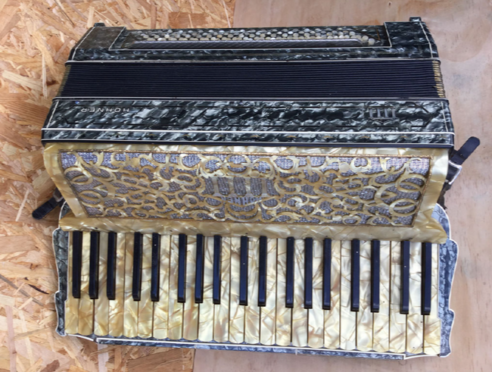 Lucky locals could get their hands on some unique heritage items at an auction held by a recycling charity.
Forres social enterprise organisation Moray Waste Busters are hosting their ever-popular yearly sale this Sunday at their base beside Waterford Recycling Centre in the town.
Some of the more crowd-pleasing items for grabs include an original Charles Eames chair – worth more than £1,000 if bought new – a Pashley ladies bicycle and some Tiffany-style lamps.
The auction will also mark the charity's decision to begin opening its doors on a Sunday for the first time from June 23.
Phil Mills, operations manager at Moray Waste Busters, said each item donated and re-used prevents it from being sent to landfill.
He said: "Every day wonderful items are passed on to Moray Waste Busters, and usually it is first come, first served.
"The live auction, however, gives all our customers equal chance to get a bargain on some of the most prized and valuable items we receive throughout the year.
"We recognize that many people who work through the week have found it difficult to get to Moray Waste Busters during our weekday opening hours of 9.3oam until 3:30pm.
"Therefore, we are delighted to open not only on Saturdays, but now Sundays, and be more available to everyone."
The charity's main aim is diverting waste from landfill and reinvesting the resources generated back into the local community.
In 2018, Moray Waste Busters took more than 160 tonnes of reusable goods away from landfill – which equates to about 150,000 items each year.
Other items going under the hammer include a Hohner accordion and a Brennan hi-fi system, together with train sets and dozens of whisky flasks.
Bob Kenny, chairman of the charity's board of trustees, said that thanks to the generosity of local people, perfectly good items can avoid becoming unnecessary waste and be given a second life.
He said: "The live auction is a fun extension of Moray Waste Busters' 'thrill of the hunt' shopping experience, giving more people a chance to bid on some of our finest selection of pre-loved quality and antique goods.
"All surplus income from sales are used for the upkeep of our Forres-based facilities and to employ local staff, including socially disadvantaged workers from Forres and surrounding areas of Moray."
The auction takes place on Sunday from 10am until 2.30pm, while an interactive catalogue can be found online at moraywastebusters.org.