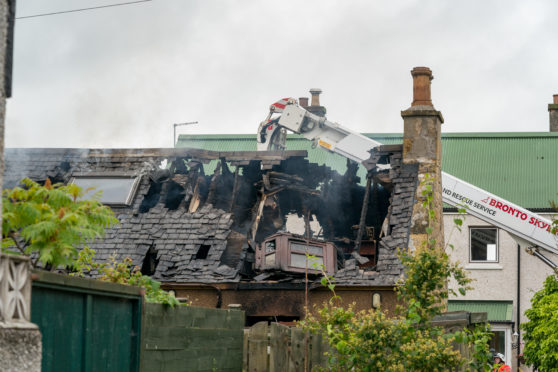 A section of road in Elgin has been closed off due to safety concerns after a fire destroyed a woman's home on the street and left it at risk of collapse.
Mitchell Crescent, adjacent to Elm Cottage, has been shut to motorists since yesterday and will not open again for at least another five days.
The closure has been put in place after a bungalow was badly ravaged by a fire on Tuesday.
A vulnerable woman had to be rescued after flames broke out in her home that afternoon.
Emergency services were called to the blaze at about 1pm, with the fire service sending six appliances and police officers cordoning off the area.
The property sustained substantial structural damage due to the fire and has been deemed unsafe by engineers.
It is believed that the sections of the home are in danger of falling down and that safety measures will have to be put in place before the road reopens.
Elgin Community Council chairman, Alastair Kennedy, welcomed the news that the street had been shut off so that the work could be undertaken.
He said: "We passed by the incident and were quite worried by what we saw, but at least no one was hurt.
"I'm sure everyone is working together at the moment to ensure that the house is sorted as soon as possible.
"They will hopefully sort things out so there is no further inconvenience than necessary."
Huge plumes of smoke could be seen in Elgin town centre on Tuesday afternoon, with traffic heading through Bishopmill brought to a standstill due to the heavy emergency services presence.
Residents from neighbouring properties were asked to keep well away as fire crews battled the flames for about four hours before getting the situation under control at 5.10pm.