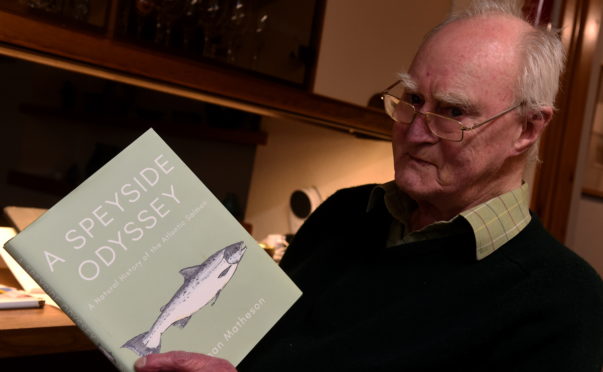 A north-east angler is hopeful that his recently-released book will prove popular with people taking to the banks of his favourite river for the start of the salmon season.
In a matter of weeks, the River Spey will be dotted with fishermen and women hopeful of catching one of the elusive creatures.
Norman Matheson, 87, has been casting his line along the expanse for the better part of seven decades – and recently documented his passion for salmon in a book about the treacherous travels the fish undertake in their lifetime.
And he has managed to net a lucrative backer for the book – the Duke of Rothesay.
Prince Charles wrote the foreword for A Speyside Odyssey, praising Mr Matheson's "unrivalled knowledge and infectious passion for the fascinating story of Atlantic salmon" along with his "splendid watercolour illustrations".
Mr Matheson, who worked as a surgeon at Aberdeen Royal Infirmary and still lives near the city, was brought up in Glenlivet and Tomintoul and fell in love with salmon fishing on the Spey as a boy.
The book details the timeline of a salmon from conception in the Highlands as a pea-sized egg through its multiple transformations into an adult fish before it embarks on the voyage through small tributaries to the River Spey and eventually to the oceanic feeding grounds.
Its odyssey ends when it remarkably returns home to spawn in the same burn.
The author, who has even christened his house Head of Wood after a salmon fishing pool on the Spey, said: "It's an interesting read for those who are salmon fishers, or simply interested in nature as it also shows the wild flowers and birds that inhabit Speyside."
The book took Mr Matheson almost three years to write, and he also delicately painted more than 40 watercolour illustrations of sea creatures, birds, wildlife, natural flowers and, of course, the Atlantic Salmon to illustrate it.
Profits from the book's sale will go to the Atlantic Salmon Trust.