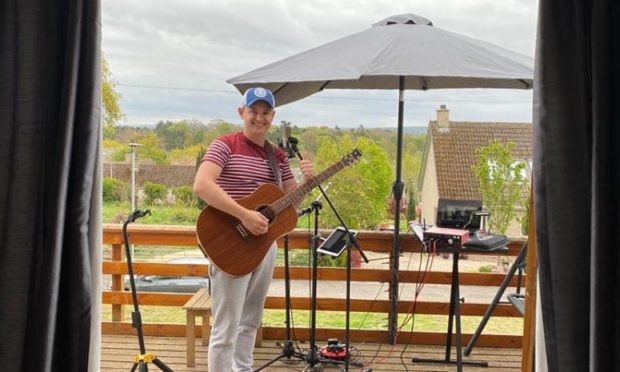 A Moray singer who has been holding online gigs since lockdown has now raised more than £2,000 for Moray Food Plus.
Paddy Farrell held a concert on the balcony of his Duffus home and livestreamed it on Facebook earlier this month.
The 37-year-old, who works in logistics at RAF Lossiemouth played for more than four hours for the fundraiser and raised a total of £2,128.
Mr Farrell said: "I made a festival vibe and we far surpassed what I expected to raise for the Moray Food Plus which was superb.
"The food bank grabbed my attention and it is great to help during these uncertain times.
"One of my friends has been volunteering at the foodbank and we have been chatting about fundraising for Moray Food Plus a few months back before the lockdown so it was at the forefront of my mind anyway."
Mr Farrell regularly gigs across the north-east of Scotland.
He said that lockdown has given him more time to practise music.
He added: "Music is everything to me and I play every instrument I can get a tune out of.
"Being able to just pick the guitar up at the balcony, set up a Paypal page and livestream is certainly right up my street.
"Especially in lockdown, all I have been doing is playing my guitar trying to get better and better."
People can check out his online gigs on www.facebook.com/paddyfarrellmusic