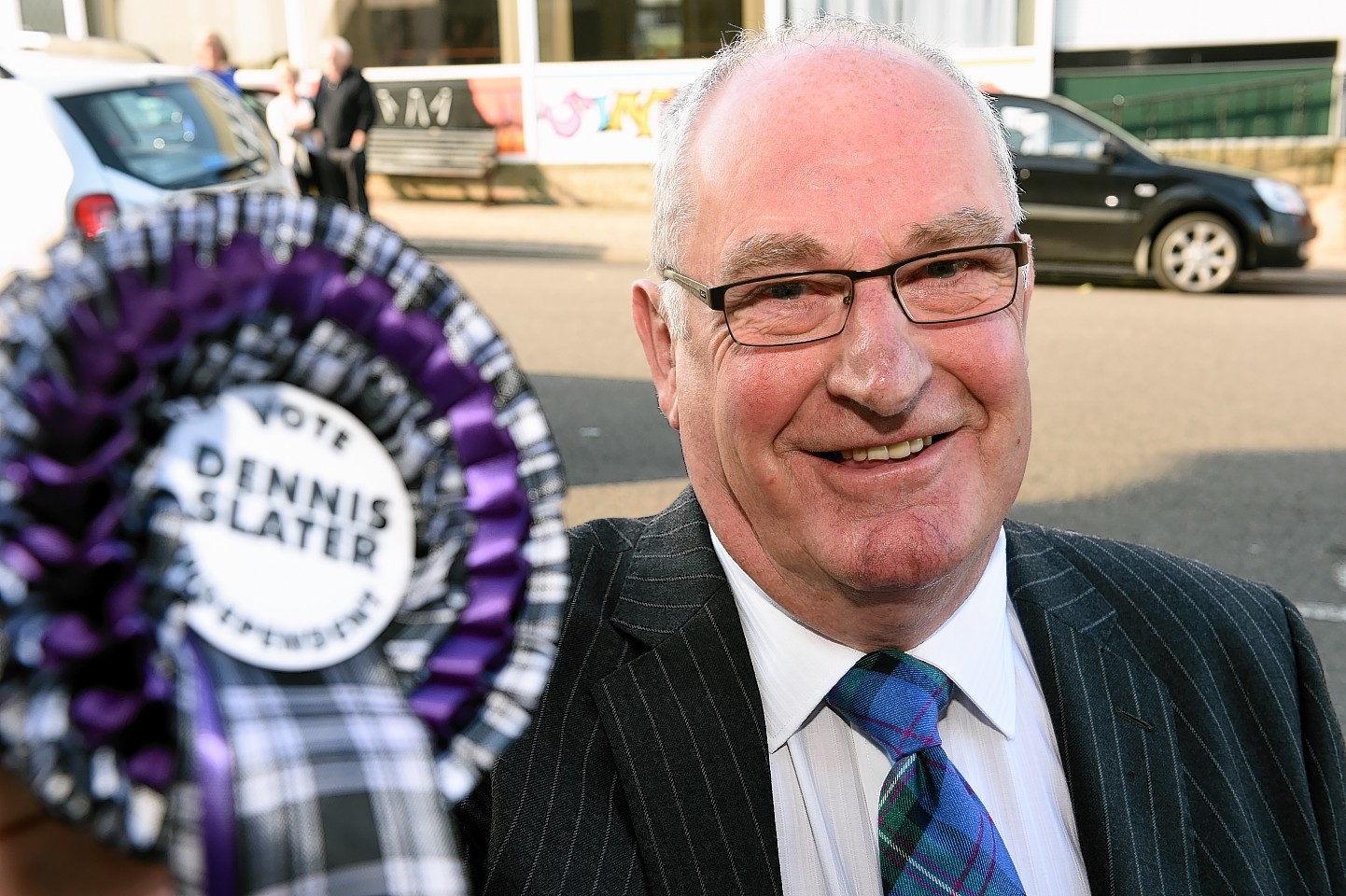 The SNP's hopes of seizing control of Moray Council were dashed yesterday at the party was defeated in a key by-election.
Independent Dennis Slater swept to victory in the Heldon and Laich ward.
But his decision not to align himself with "any" administration group leaves the local authority on a knife-edge.
The by-election was triggered by the resignation of long-serving councillor Eric McGillivray in July.
The veteran's shock departure left the ruling Independent-Conservative administration and the opposition SNP group with 11 seats each.
In the build-up to the by-election speculation mounted that if the Nationalists triumphed they would launch a power grab.
Leader of the SNP group on Moray Council, Gary Coull, confirmed last night that plans had been in place to form a new administration if the party's candidate Joyce O'Hara had won.
Speaking after the result was announced yesterday, Mr Slater said: "As it stands at the moment, I'm fully standing as an Independent councillor and not part of the administration.
"I shall work with anyone who comes up with something that can be beneficial to our communities and I will not take a vote before consulting with the communities first."
Councillor Coull said: "Obviously, we are disappointed not to have won.
"It was a hard fought and close thing. The Heldon and Laich seat would have taken us up to 12 out of 26 seats, which would have seen us control nearly half of the chamber.
"We were up for the challenge of taking on a new administration to drive change forward in Moray and try to improve the lives of people here.
"It may be an Independent that has won, but one that has said he is not going to join the administration, so it is not exactly a ringing endorsement for them.
"It would have been good to get that change in the council, but we don't know if that is going to be possible now."
Moray Council leader Stewart Cree said: "Voters in Heldon and Laich were given a clear choice in this instance between one man against a machine and the people have shown they wanted one man to represent them over any political machine.
"I look forward to working alongside Dennis Slater. Clearly, he was the best man for the job on the day and he has shown he has the interests of the people at heart.
"We have a job to do in Moray Council. We are very proud of the record we have in comparison to other local authorities in Scotland, from building new council houses to completing the flood alleviation schemes.
"I am delighted we will have the opportunity to see out our term and fulfil our ambitions."
Council convener Allan Wright added that he was "delighted that Heldon and Laich remains an SNP-free zone".
Fochabers Lhanbryde Conservative councillor Douglas Ross said: "Dennis has been elected with a mandate not to work with groups on the council but to represent his constituents first and foremost, and I will assist him in any way I can to help him to do that.
"The SNP threw everything at this by-election, yet Heldon and Laich continues to be an SNP-free area on Moray Council."
The by-election result was announced at Lossiemouth Town Hall.