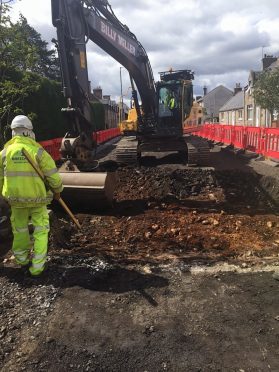 Significant progress had been made on the transformation of the road and drainage system of Aberlour High Street and and end to the misery of neighbouring traders could be in sight.
The work began in May this year and businesses began to complain about the disruption shortly afterwards.
But now, Bear Scotland has completed the installation of the new road and drainage system and will soon begin to replace the water mains.
Mark Turner, engineer for Aberlour Improvements, has vowed to continue to cooperate with nearby businesses.
He said: "We've done all we can to keep disruption to a minimum and keep the local community as informed as possible every step of the way during our improvements, including holding weekly community meetings, additional signage and advertising for local businesses and making on site arrangements as required.
"We'll continue liaising closely with the community in the coming months to determine the best way to proceed with these works once Scottish Water have replaced their mains, as we want to keep disruption to a minimum."
One of those who complained about the work was Ronnie Noble, the owner of the Fresh-on-Spey restaurant, who said trade had declined.
He said last summer : "Many of the businesses in Aberlour have been struggling since these roadworks commenced.
"Most traders I have spoken to have talked about suffering a fairly major drop in trade.
"At the moment I'm half a mile away from where the works are taking place and I'm suffering, so I fear things will only get worse."
And Moray MSP Richard Lochhead said he hoped the engineers would continue to work to minimise disruption.
He said: "Residents and small businesses in Aberlour have faced real disruption over the last six months.
"It is certainly welcome news that the resurfacing and drainage works are now complete and an end appears to be in sight for those affected in the village.
"I hope that whilst Scottish Water undertake works to replace the water mains, both Transport Scotland and Scottish Water will continue to engage with and support the community as much as possible, to minimise disruption in this final period of works."