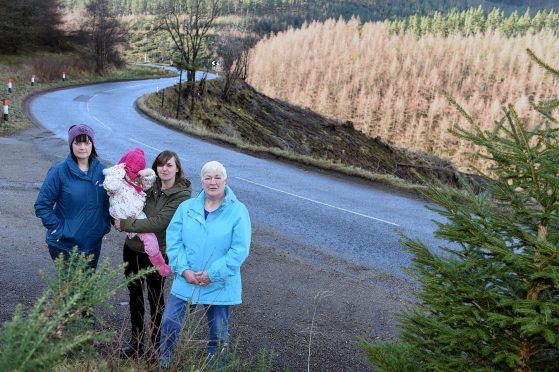 Hundreds of Speyside residents have raised fears that cars could plummet down a steep verge if moves are not taken to make a sharp bend safe.
Campaigners say a crash barrier needs to be erected on a corner between Dufftown and Drummuir, following the removal of trees which had acted as a natural barricade for cars that had left the road.
They say the "notorious" bend in the B9014 Keith-Dufftown route, around Parkmore, had often sent vehicles careering into the trees by its side.
But, since a private landowner cleared them as part of a huge felling scheme, locals fear it is a "matter of time" before a vehicle tumbles hundreds of feet down the steep embankment.
Campaigners say it could be hours before stricken cars are spotted in the valley below, and are concerned that ambulance crews could struggle to reach injured parties.
Moray Council has installed chevrons around the bend, and has erected signs warning drivers of the upcoming hazard.
The local authority says it conducted thorough tests that proved any further measures would be unnecessary.
But Dufftown Community Council has circulated a petition urging the local authority to install a crash barrier, which has been backed by hundreds of the road's regular users.
The group's Jim Nicol said: "We understand Moray Council is suffering from funding shortages, but this is too serious to wait.
"Cars used to come off that road and drive into the trees, but now they will roll to the bottom of the brae.
"It will be a lot harder now to get any cars or injured people up that hill too."
Dufftown's Heather McDonald works as an auxiliary nurse in Keith, and uses the B road on a daily basis.
She said: "I work 12-hour shifts so a lot of the time I am travelling back and forth in the dark.
"If a car was to come off the road and end up at the foot of that hill no-one would know about it for a long time.
"The trees had acted as a natural barrier, and offered some protection."
Alison McLaren navigates the treacherous bend on a weekly basis, and believes installing a crash barrier could be a matter of life and death.
She added: "These chevrons are not enough, I'd say a crash barrier was needed even before the trees were felled.
"It really could save lives."
Speyside Glenlivet councillor Mike McConnachie warned: "The chevrons and the signs won't stop any vehicles sliding over when the road is icy."
Moray Council has moved to reassure residents that the safety measures already enacted are sufficient.
A spokesman said: "The trees have been felled as part of a commercial logging operation.
"Following this felling we tested the road at the maximum speed allowed, and the bend was negotiated quite safely.
"However, in response to local concerns Moray Council has placed chevron markers and increased signage to warn of the bend."