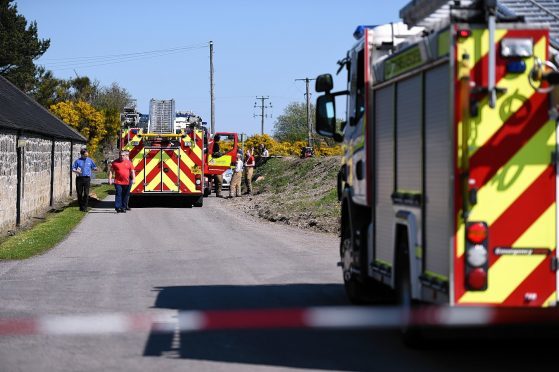 A whisky distillery had to be evacuated when dangerous chemicals spilled across the floor of a storeroom.
Fire crews were called to the Longmorn single malt plant outside Elgin and remained on site for hours decontaminating the affected building.
Brigade chiefs said the nitrous acid leak was detected electronically by the plant's computerised alert system and production was halted immediately.
Drinks giant Chivas Brothers, which owns the 19th century distillery, confirmed no workers were injured in the incident.
Fire crews from Elgin, Rothes, Huntly and Dyce were called to the scene along with a hazardous materials expert from Inverness.
But by the time firefighters reached Longmorn, about a dozen staff had already been evacuated.
Station manager at Elgin, Gordon Morrison, said crews were talked through the painstaking clean-up operation remotely by a scientific expert from Glasgow.
He added: "This has happened in a store room filled with tanks of different chemicals, and there's been a spillage from a vat of nitrous acid.
"Thankfully it was contained to the one room, and information was relayed to us through the scientific officer in Glasgow on how to go about removing any danger.
"We used four gas-tight suits and sets of breathing apparatus, to prevent us from being harmed by the acid."
Police monitored the situation and manned a cordon ensuring members of the public remained a safe distance from the affected area.
After cleaning the building and removing all traces of the dangerous substance, firefighters were hosed down in a decontamination tent.
A spokeswoman for Chivas Brothers said: "We can confirm that a minor spill occurred at our Longmorn site, whereby a chemical fluid was released on to the plant floor.
"The spill was wholly contained within the building, and a full clean-up was carried out."
The firm said the building did not suffer any significant damage but could not confirm whether an investigation into the cause of the spillage would take place.
A police spokeswoman confirmed that early efforts had been made to "localise" the spill, but said the fire service led the clean-up operation.
A spokesman for the fire service said crews were first called around 12.50pm and remained on scene for several hours to ensure the storeroom was safe for staff.
Vapours from concentrated nitrous acid can be harmful to people's eyes, skin, and mucous membranes, and contact with it can stain the skin yellow and produce painful burns.
Eye contact can cause severe burns and permanent damage, and inhalation can lead to severe breathing problems.
The Longmorn plant, which is just off the A941 Elgin to Rothes road, was founded in 1893 and began production the following December.
In 1970, Longmorn joined The Glenlivet and Glen Grant to form The Glenlivet Distillers Ltd, which was then bought by Chivas Brothers in 1978.