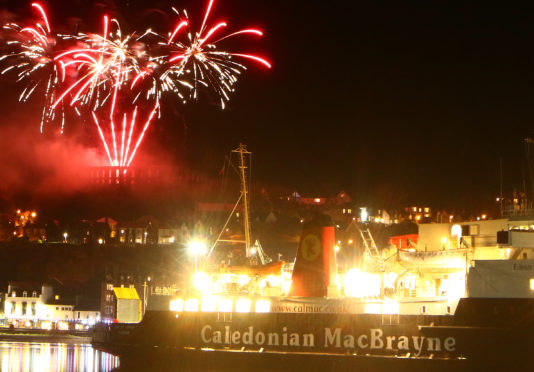 Oban Winter Festival came to an end with many a bang on Saturday night with a St Andrew's Day fireworks display.
The show, from McCaig's Tower, included a Saltire being beamed across the bay by the Northern Lighthouse Board.
Oban Winter Festival, the biggest to date, included fireworks and light displays, parades, markets, food competitions, fun events and late night shopping.
This year, an extra weekend of fun was added to coincide with St Andrew's Day.
A young entrepreneurs market for over-16s was held in Oban Distillery on Saturday with juniors, under-16s, holding a similar event in Oban Chocolate Company.
A special lunch for local heroes, The Lighthouse Keeper's lunch, took place in The View.
Pamela Lockhart, chairwoman of the festival, said: "We are the seafood capital, so our local heroes are the fishermen, RNLI, coastguard and fishermen.
"They were invited to a lunch and later the public came and visited to celebrate them."
A St Andrew's night ceilidh took place in the Argyllshire Gathering Halls with music from the Gaelic choir, pipe band, high school pipe band and traditional ceilidh band.
Mrs Lockhart said: "This was our biggest and best festival yet. There have been bigger crowds, more events and more partnership working."
For the first time this year, the festival started with a parade, on the theme of fantasy, frost and fairy tales.
The Winter Queen travelled through town on her unicorn, performing magic and casting spells as shop windows lit up in her wake.
However, unicorns haven't displaced the traditional reindeer parade and Christmas lights switch-on which took place the following weekend.
For the second year, a popular festival highlight is Winter Woods, a night time walking event in walled garden and grounds of Glencruitten, just outside the town, boasting stories, performances, challenges and a light show.
Last year's figures show a boost of £1.72m to the town, with 23,500 visitors and £33,000 raised for local charities.