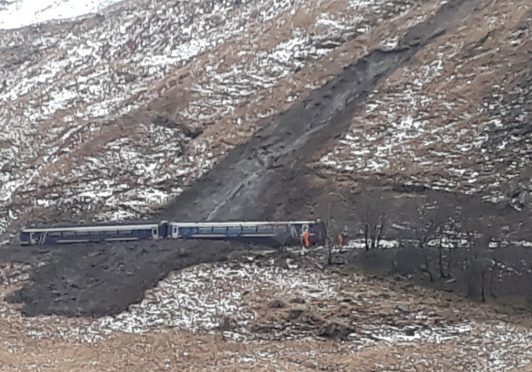 A probe has been launched by the Rail Accident Investigation Branch (RAIB) into an incident in which a train was derailed by a landslip on the famous West Highland Line.
Hundreds of tonnes of mud and stone slid down onto the track between Lochailort and Glenfinnan, by Loch Eilt, just before 7am on January 22. The five passengers and two crew on board escaped injury.
The RAIB will now investigate the sequence of events leading up to the accident, according to a short report published on their website yesterday.
The report says they will consider the arrangements which are in place for protecting the railway from landslip debris at this location, Network Rail's procedures for managing the combined effect of rain and snowmelt and "underlying management factors."
The report also states: "The accident happened in darkness following a period when significant snow melt occurred at the same time as moderately heavy rainfall.
"The landslip originated above the railway boundary. A proportion of the several hundred tonnes of material that slipped was deposited on the railway. This destroyed a section of a fence installed recently to protect the railway from individual loose boulders rolling down the adjacent slope."
Last month's incident happened during rain and also thaw following a period of heavy snow and low temperatures.
Passengers were evacuated to the nearest road access by a specialist rail vehicle and then transported by taxi.
ScotRail services were suspended between Fort William and Mallaig for about a week while engineers worked to free the train and clear the line of debris. Replacement bus services were put in place.
As well as being an essential route, the railway is also world-famous as the Harry Potter line and was used by the Hogwarts Express train in the blockbuster films.
A Network Rail spokesman said: "The safety of passengers and staff on our railway is of vital importance to Network Rail. We have already begun our own internal investigation into this incident and will work closely with the RAIB is it completes its inquiry."