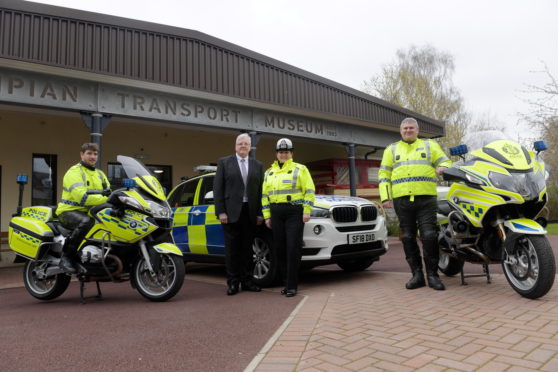 A safety campaign to help protect bikers from becoming yet another fatality on Scotland's roads has shifted up a gear.
While motorcyclists make up just 1% of all motorists, they account for around 20% of all people killed in road crashes.
In an effort to address the death toll, the 2019 police motorcycle safety campaign was officially launched yesterday at the Grampian Transport Museum in Alford.
Between now and the end of September, officers across the country will be working to promote responsible riding as bikers take their vehicles out of the garage to enjoy the summer weather.
"We want to encourage responsible and safe riding by motorcyclists, but also encourage all motorists to be considerate and respectful towards motorcyclists," said deputy head of road policing, Superintendent Louise Blakelock.
"With the lighter nights, better weather and improved road conditions, many bikers are getting out and about and enjoying riding out on our fantastic roads all across Scotland.
"We want to make sure that while they're out enjoying themselves, they keep safety in mind to they can come home to their loved ones."
She added: "We focus on all kinds of road safety throughout the summer months, but we will also have weekends of action designed to focus on education and engagement with motorcyclists, and enforcement for any road traffic violations if necessary."
In 2017, a total of 146 people died in road crashes across Scotland – 29 of them bikers.
Michael McDonnell, director at Road Safety Scotland, also attended the launch of the police campaign.
He said: "Traditionally the biking season runs from around Easter to the end of September, which makes it all the more important that we work hard to reduce dangerous driving now.
"It's absolutely essential that we continue to remind bikers and other road users about where things can go wrong or where mistakes can be made.
"Situations such as turning out of junctions or going around bends can be where many collisions take place, especially when speed is a factor.
"Taking care on bends, approaching junctions, and being prepared to brake just in case somebody comes in front of you, is vitally important."