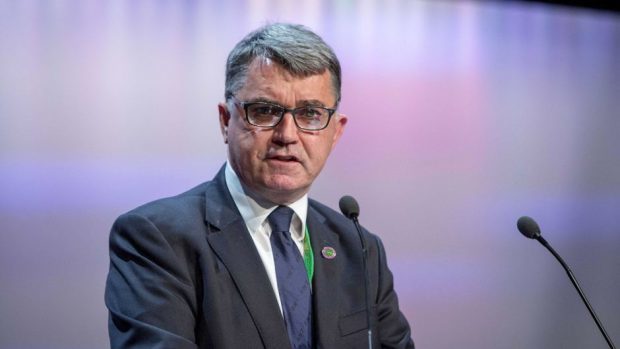 A union chief has challenged shadow chancellor John McDonnell to back a £10-an-hour living wage at sea as well as on land.
RMT General Secretary Mick Cash welcomed the policy to introduce a higher rate if Labour wins power.
But he insisted the same should apply on ships to tackle the undercutting of UK seafarers' wages with foreign workers amid a "race to the bottom".
He also called for intervention in the form of regulation from the Conservative Government to protect against exploitative pay as low as £1.64-an-hour.
The number of UK ratings has fallen sharply in recent years to less than 9,000, compared to more than 30,000 in 1982.
It is estimated that by 2020, the figure could drop to 5,000, with many people due to retire in the coming years.
Job cuts, particularly on offshore supply vessels since the collapse of the oil price, have also exacerbated the situation.
Speaking at a heated event on UK seafarers' futures at the Labour conference in Liverpool, Mr Cash said that without regulation, the "bad would be undermined by the atrocious".
He also outlined a campaign – SOS 2020 – to be launched in Westminster next month.
He said: "If John McDonnell is going to produce his argument about £10, every single one of them should have £10 an hour minimum.
"If we are going to have £10-an-hour on land, we should have £10-an-hour on ships.
"We should have the same on board, particularly around EU waters. If we got that we wouldn't be having the race to the bottom.
"Unless governments start to regulate what's going on, all that will happen is the good will be undermined by the bad and the bad by the atrocious."
Ronnie Cunningham, Nautilus assistant general secretary, emphasised 95% of everything coming in and out of the UK goes by ship.
And he warned that in a world of "heightened uncertainty" in relation to security, there needed to be enough UK seafarers to ensure a certain number of ships could be staffed.
Labour's shadow transport secretary Andy McDonald, who also spoke at the event, said protecting jobs for UK seafarers was not discrimination if handled correctly, but paying someone less than their UK colleague because of their nationality was.
Guy Platten, Chamber of Shipping chief executive, admitted complacency in the past, but insisted ship owners do value UK ratings and committed to working with employers to grow their number.
A UK Government spokesman said: "We want to see a successful UK maritime industry to put our nation in the best possible position to benefit from the expected doubling in world sea trade by 2030.
"We work closely with the industry and trade unions, have pledged to review the financial support we offer for maritime training and promote the wide range of careers and opportunities in the sector.
"Our seafarers are rightly recognised for their training and expertise all over the world and we are fully committed to maintaining their reputation."