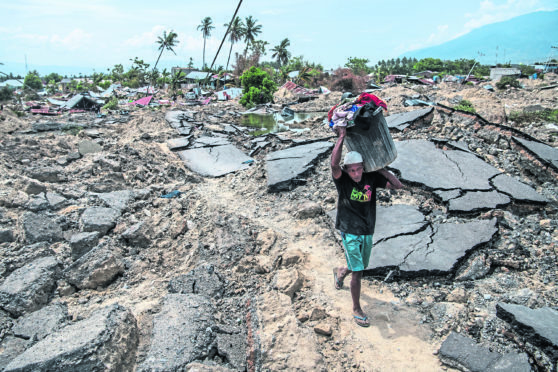 An appeal to help the survivors of the Indonesia earthquake and tsunami has been launched by the UK's Disasters Emergency Committee (DEC).
DEC chief executive Saleh Saeed said "devastated communities" urgently required clean drinking water, food, medical care and shelter.
He said: "DEC member charities and their local partners are working closely with the Indonesian authorities to get aid to those who urgently need it, as well as helping survivors to cope with the trauma of the last few days.
"As the full scale of the disaster unfolds, they are providing emergency relief and are ready to help devastated communities to rebuild their lives.
"Please give generously and let's save the survivors."
Anyone wishing to make a donation can go online, at www.dec.org.uk, call the 24-hour hotline on 0370 60 60 900, donate over the counter at any high street bank or post office, or send a cheque.
A £5 donation can be made by texting SUPPORT to 70000.
DEC said that texts cost £5 and the whole £5 goes to the appeal.
The United Nations Office for the Co-ordination of Humanitarian Affairs says there are nearly 200,000 people in urgent need of assistance, about a quarter of them children.
The UK government said on Tuesday it would send a transport aircraft filled with urgent aid to Indonesia.
International Development Secretary Penny Mordaunt said thousands of shelter kits, solar lanterns and water purifiers were being sent to the disaster zone.
DEC showed its appeal on major UK television and radio stations on Thursday.