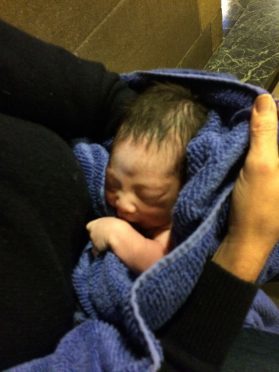 A mother who left her newborn baby in a Christmas manger inside a New York City church will not be prosecuted.
CCTV footage from a New York street shows the mother carrying the baby to Holy Child of Jesus Church in Queens where she then left the young boy in the manger.
The baby was found 20 minutes later when he was heard crying.
Emergency crews took the baby boy to a local hospital, where he is reportedly in good health, police said.
Queens District Attorney Richard Brown said the unidentified mother felt her newborn was in a warm place and would be found safe.
He said the mother had been located and interviewed about putting her son in a creche at Holy Child of Jesus Church in Richmond Hill, Queens.
A church custodian found the 5lb baby on Monday afternoon, after hearing him crying. He was wrapped in towels and had his umbilical cord still attached.
New York has a so-called safe haven law that says a newborn can be dropped off anonymously at a church, hospital, police or fire station without fear of prosecution.
But the law, known as the Abandoned Infant Protection Act, requires that the child be left with someone or for authorities to be called immediately.
Police said that did not happen in this case, which led investigators to begin searching for the mother.
In deciding not to bring charges, Mr Brown said the mother followed the spirit of the Safe Haven law.
"It appears that the mother, in this case, felt her newborn child would be found safely in the church and chose to place the baby in the manger because it was the warmest place in the church, and further she returned the following morning to make certain that the baby had been found," he said.