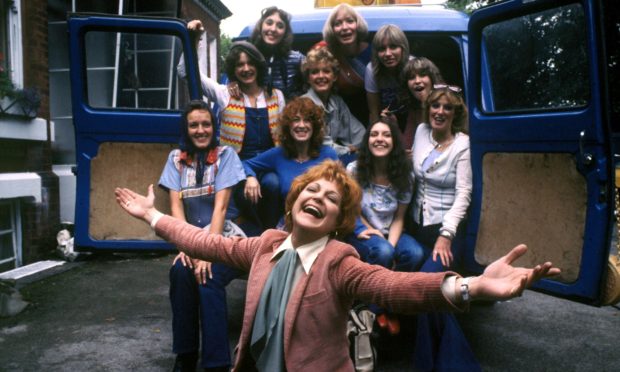 Born into a family of entertainers, Annie Ross knew from an early age she, too, wanted to be in the limelight.
And throughout her life she managed this with ease – working as a child actress, a jazz superstar, a Broadway performer and a nightclub owner.
She even scooped a Grammy Award.
Tributes have been paid across the world to Ross, who died on Tuesday four days before her 90th birthday.
The world lost a great jazz singer. Annie Ross. I grew up with @JoniMitchellcom version. I could win any lip synch battle to TWISTED. This a great reminder of Annie's talent! https://t.co/DkCxVVRVHH

— Jamie Lee Curtis (@jamieleecurtis) July 23, 2020
When she was four, she moved to Los Angeles with her Scottish vaudevillian parents and brother Jimmy Logan – who would later become a renowned comedian and director.
But when the rest of her family returned home a few years later, Ross went to live with her aunt, musical theatre star Ella Logan.
It was not long before she started landing roles on the big screen.
Ross made her film debut in 1938, when she sang The Bonnie Banks O' Loch Lomond in Our Gang of Follies.
She then appeared in 1943's Presenting Lily Mars as the sister of Judy Garland's character.
At one point, she was described as Scotland's answer to Shirley Temple.
Ross is best known, however, for her role as one-third of jazz vocal trio Lambert, Hendricks and Ross.
In the 1950s and 60s, the group recorded seven albums and toured across the world, performing with the likes of Louis Armstrong and Carmen McRae.
The group earned three Grammy Award nominations and one win for best performance by a vocal group.
Ross is also credited with pioneering vocalese – a style of jazz singing where lyrics are added to a soloist's improvisation.
Her 1952 song Twisted, which used this method, was later covered by Joni Mitchell and Bette Midler.
The singer returned to the UK in the 1960s and opened her own nightclub. She also weathered personal difficulties including addiction, bankruptcy and divorce
But Ross returned to the performing arts – both on stage and on screen.
She acted in Bertolt Brecht's The Threepenny Opera and The Pirates of Penzance in London, and appeared in firms including Superman III and Robert Altman's Short Cuts.
Ross became a US citizen in 2001 and in recent years was a mainstay of the Manhattan cabaret scene.
Her final album, To Lady With Love, was released in 2004.
The performer is survived by her partner Dave Usher and son, Kenny Clarke Jr.