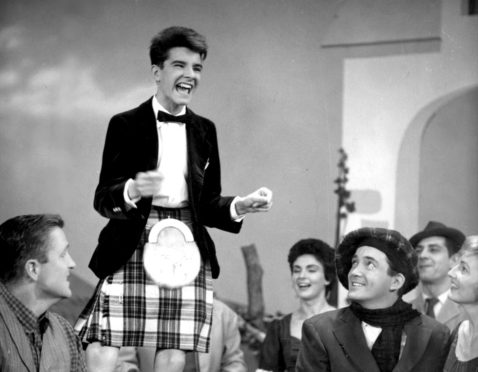 Amidst an exhibition dedicated to home-grown pop stars at the National Museum of Scotland in 2018 was a shrine devoted to Jackie Dennis.
By then, he may have lacked the household name status of many of the others featured, including Lulu and the Bay City Rollers.
But the Edinburgh-born singer was no less worthy of inclusion in the celebration of the nation's musical heroes.
Visitors received an eye-opening glimpse into a simpler time when the tartan-clad teenager took America by storm.
And now more tributes have been paid to the Leith native, hailed as Scotland's first pop star, following his death aged 77.
Dennis found fame as a spiky-haired 15-year-old after impressing comic duo Mike and Bernie Winters with his vocal talents during a performance at a Prestwick military base in 1958.
At one stage during his rapid ascension, Dennis could lay claim to being "bigger than Elvis" as his debut record La Dee Dah outsold Jailhouse Rock in Scotland.
He was signed to Decca and was soon performing alongside luminaries like Petula Clark and Lonnie Donegan.
He made history on the Perry Como show in New York, becoming the first British artist to appear on American television.
Forever proud of his heritage, the energetic performer almost always wore a kilt or tartan trews on stage – earning him the nickname of "the kilt with the lilt".
At the peak of his popularity, he had a four-week residence at the Desert Inn in Las Vegas where he rubbed shoulders with Dean Martin and Frank Sinatra, and struck up a friendly relationship with Sammy Davis Jr.
But Dennis retired from entertainment completely in the 1970s, and began working as a carer in Edinburgh.
He lived in the Pilton area of Edinburgh with wife Irene, to whom he was married for more than 30 years.