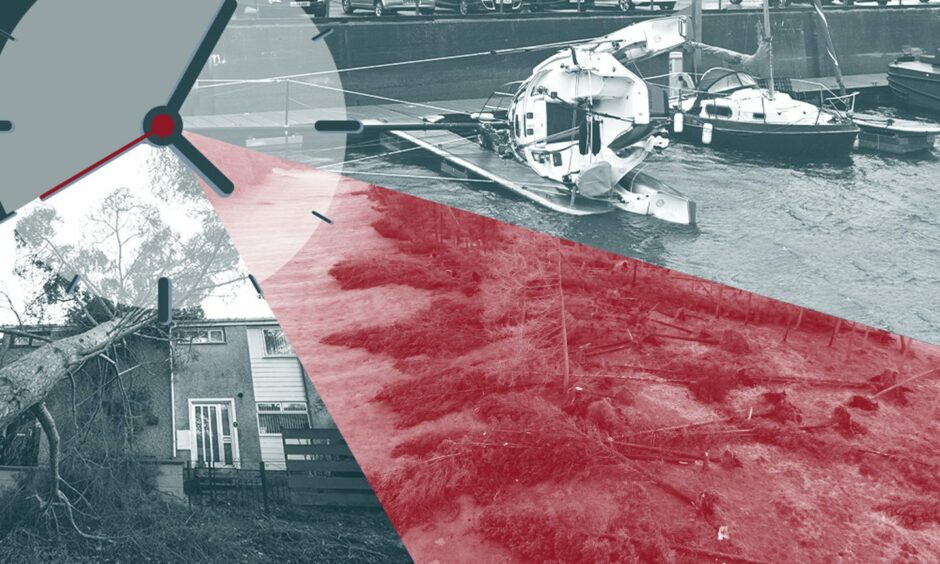 Storm Arwen approaches
Storm Arwen is approaching the north of Scotland. By 9am, Lerwick on Shetland is recording average windspeeds of 41mph, while gusts of 66mph are recorded at Wick Airport.
Not even at its strongest yet, winds flip a boat in Lossiemouth Harbour. No one is hurt.
He said: "I couldn't believe what I was seeing when I got there. I could see the roof flapping about in the winds."
A resilience meeting is held by the Scottish Government, and Deputy First Minister John Swinney advises people living on the east coast not to travel.
Just chaired @scotgov Resilience meeting on #StormArwen. Red warning for east coast areas is rare and serious. @PoliceScotland advise NOT to travel in these areas. Amber warnings for other areas. Please follow advice and #staysafe. https://t.co/0q6riYNEqM

— John Swinney (@JohnSwinney) November 26, 2021
David Lapage, a fisherman from Peterhead, was out trying to help move debris from the road.
While driving along the B977 Dyce to Hatton of Fintray Road an overhanging tree branch fell and struck his car – killing him.
Read more about his story here.
The lifeboat crew arrives at the stranded vessel in the early hours of the morning. The winds have reduced but are still 37 mph.
Sam said: "We had to work our way up the coast, punching into the weather. It was a really hard slog from start to finish."
The crew has to escort the boat four miles from shore before they can stand down. The waters are treacherous. They arrived back to the base in Arbroath at 8am.
They were out for around eight hours.
Power cuts
Louise Grant and her family were one of many who lost power during Storm Arwen.
She was sent home from her work as a school dinner lady alongside her kids when the weather began getting worse.
The family, who live in Rhynie, turned the heating on as much as possible to warm the house up before the storm knocked out the power. Due to the connections, they also lost their water supply, and slept in the living room to keep warm.
Louise said: "We had a lot of board games. We were quite good with that.
"The way that Rhynie's power works is that if there is no power there is nothing to pump the water through. So, there was no water coming through."
To ensure they didn't go without water, the family filled up a bucket of snow to let it thaw.
But they were still waiting anxiously for their power to return.
She said: "You get all the texts saying the power would be back by whenever. And then you'd get another one saying actually no, it will be this time."
The experience has taught Louise and her family to be more prepared, but she hopes that more people would think "of the smaller places if things were to happen again, it would be more appreciated".
The morning after
Storm Arwen samaritan
In the aftermath some people just wanted to help others.
Michael Coull, owner of Little Kitchen Outside Catering, arranges with butchers and suppliers to stock up his food truck so he can make sure people without power were being fed.
He was frustrated to hear how many people were left without power as the days went on, and said: "If they had said to people it would be out for four days, they could have made plans. But people waited until it was three or four days down the line."
On the Sunday after the storm, he served more than 500 people across Aberdeenshire who were unable to cook for themselves.
He said: "I didn't want to see anyone starving. I wanted to make sure people were fed.
"They were just so grateful for some hot food and something to drink. You hear stories about the water and people struggling."
The Storm Arwen inquiry
An inquiry was launched by the UK Government to investigate Storm Arwen and its impact.
It concluded energy networks across Scotland and Britain were not resilient enough to handle severe storms of this nature.
Support for customers affected by power cuts was "poor".
The Met Office and distribution network operators were told they must work together to make better public forecasting tools.
The report suggested: "Current modelling suggests that in the future, GB will likely be subject to more extreme weather events, although it is not certain this will include more frequent severe winter storms similar to Storms Arwen and Eunice."
The Scottish Government published its own report promising more preparation and improvements after Storm Arwen.
This included more communication and support for those most vulnerable.
The report concludes: "(We) hope that the evidence set out here goes some way to reassure communities across Scotland that lessons have been learned.
"Improvements will continue to be made which will collectively strengthen our emergency response processes."
The effects of Storm Arwen are still being felt by some communities even a year after that devastating weekend.
Despite huge ongoing efforts by forestry staff, some woodland remains closed to the public while some residents near Insch are in limbo as an access road damaged in Storm Arwen has still not been repaired.
Method
This timeline was produced using contemporaneous reporting from The Courier and Press and Journal, social media research, and interviews with those who witnessed events. With thanks to Police Scotland, Scottish and Southern Electricity Networks, Met Office, and Forestry and Land Scotland for providing additional data used throughout.
---
Credits
Words and research by Brendan Duggan
Visual subheadings, scrollytelling and words by Joely Santa Cruz
Words and scrollytelling by Emma Morrice
Data visualisation by Lesley-Anne Kelly
Lead graphic by Gemma Day
SEO by Jamie Cameron